The sun was out and the greens were ready at Seymour Golf and Country Club last weekend as the 7th Annual North Shore Mayors' Golf Tournament took place. Foursomes started swinging early to enjoy a day on the links with friends and guests all in support of the new Turning Point Recovery Society and their new Women's Recovery House located in North Vancouver. Every golfer also got an opportunity to try to "Beat the Mayor" on three different specialty challenge holes. Afterwards there was a gourmet meal followed by silent and live auction and then dancing to live music by the Boom Booms.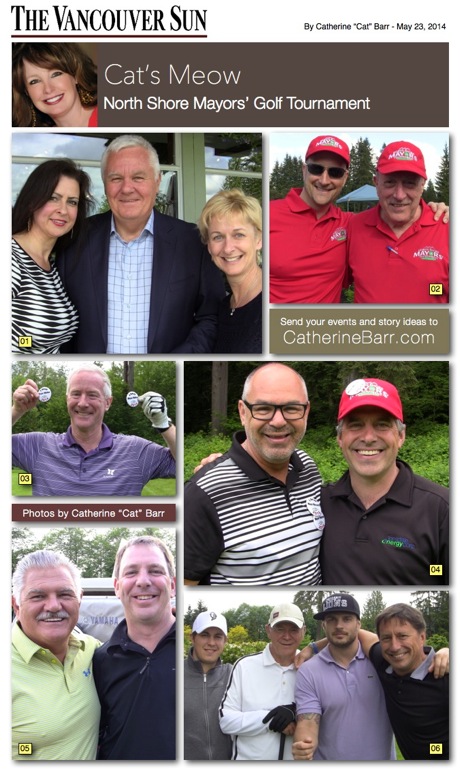 – – –
01 – PR/organizer Maureen O'Brien, left, with West Vancouver Mayor Michael Smith and former CBC meteorologist Claire Martin who was also the evening's MC.
02 – Andrew Hoffman, left, director North Shore Community Foundation, and tournament committee member Norm Smith.
03 – North Vancouver District Mayor Richard Walton holds up the buttons he's giving away for "Beating the Mayor" on his Par 3 hole.
04 – Park Royal Shopping Centre's Rick Amantea, left, with North Vancouver City Mayor Darrell Mussatto.
05 – AllWest Insurance's Paul Zalesky with auto dealer owner Steve Morrey.
06 – Driving for show. Mark Sager, right, and his team are looking good as they hit the back nine.
– – –
By Catherine Barr – May 23, 2014
Also as seen in the Vancouver Sun Newspaper
– – –
By Catherine Barr




www.CatherineBarr.com  |  www.WestVancouver.com  |  www.NorthVancouver.com
– – –