Fore! It was time to hit the links as the 6th Annual North Shore Mayors Golf Tournament signalled the unofficial start of summer's swinging good times. Held at the beautiful Seymour Golf and Country Club in North Vancouver, the conditions were perfect for a great day of fun in the sun. This year the Hollyburn Family Services Society and their "Supporting Seniors to Remained Housed" project was the recipients of the first $50,000 of funds raised. Overall, everyone got a chance to drive for show and putt for dough via the many entertaining challenges which included longest drive, closest to the hole, hole-in-one, and the putting contest. Congratulations also to the many volunteers who helped organize the event. Job well done!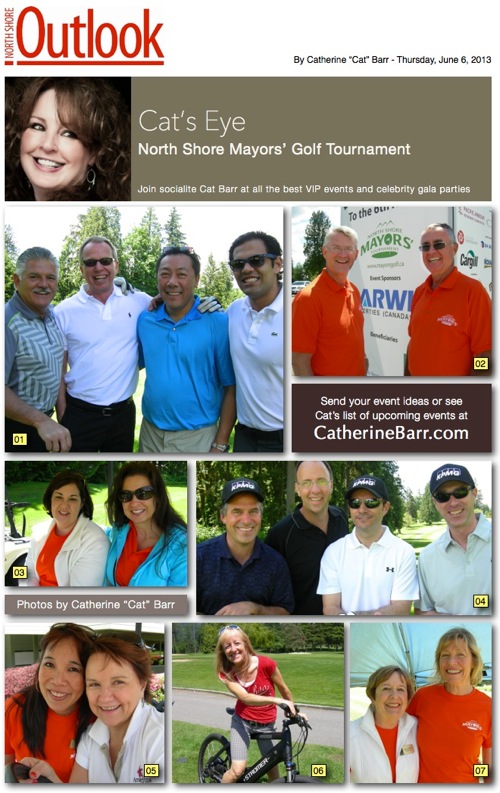 01 – AllWest Insurance CEO Paul Zalesky, left, and son Stefan (right) joins forces with Regency Auto Group GM John Rundle, centre left, and Regency Lexus general sales manager Ken Wong.
02 – Helping out at the putting competition and more are realtor Mark Ballard, left, and North Shore Community Foundation president David Alsop.
03 – Everyone's always glad to see the pretty ladies in the beverage cart. Meredith Briden, left, and Maureen O'Brien help out all around the course.
04 – Joining North Vancouver City mayor Darrell Mussatto, left, on the course are North Vancouver City councillor and friend Craig Keating along with KPMG execs Brian Szabo and Alastair Nimmons. No word on just how many mulligans they took – wink.
05 – West Vancouver Foundation executive director Delaina Bell, left, and event organizer Heather Baker volunteer their time as they zip around the course making sure all the details are in place.
06 – Hanging out the in Stromer bicycle tent is Sarah Moser who has a fun and alternative way to get around the course today.
07 – North Shore Community Foundations directors Jan Argent, left, and Elizabeth McLaren take up their position on the course waiting to see that first hole in one!
– – –
By Catherine Barr – May 24, 2013
Also as seen in print in the North Shore Outlook Newspaper on Jun 6, 2013

– – –