It was pink and pretty and very Parisian. The Nite of Hope North Shore, "Nite at the Moulin Rouge" gala at the Pinnacle Pier in North Vancouver was a sparkly soiree that featured a gourmet dinner, fashion show by Phoenix, entertainment and auction items. Raising funds for the Canadian Breast Cancer Foundation – BC and Yukon, guests enjoyed a champagne reception and a night to remember. Also last week, it was Pumpkin Fest time at West Vancouver's Community Centre. Live music, displays, kids activities, pumpkin carving contests and a scarecrow competition highlighted the 2-day event. Fabulous sunshine and great volunteers helped make it an extra successful weekend.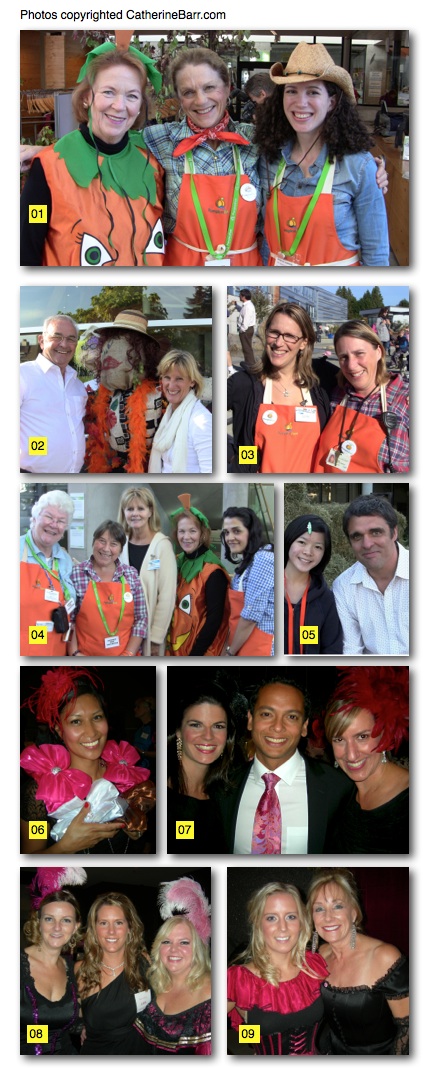 01 – Barbara Brink, left, poses with Pumpkin Fest co-chairs Patti Bolton and Jennifer Hatton as they get ready to hand out the competition prizes.
02 – West Vancouver councillors Bill Soprovich and Trish Panz are rumoured to have raided Bill's mother's closet in order to complete their scarecrow's outfit.
03 – Rec centre gals Sue Ketler, left, and Collene Huskisson are on pumpkin patch patrol this afternoon.
04 – Volunteers and board members turn out en masse to help make it all happen at Pumpkin Fest. From left: Liz Leduc, Barbara Miles-Luthy, Mary Peck, Barbara Brink and Tala Esmaili.
05 – Hauling the hay bales and working behind the scenes at Pumpkin Fest are volunteer Winny Liang and West Vancouver council hopeful Craig Cameron.
06 – Breast Cancer Foundation's Maya Dimapilis shows off the raffle purses at Nite of Hope Gala. Each $100 purse gives you a chance to win return airfare for two to New York and a $1,000 dollar shopping spree at Saks Fifth Avenue.
07 – Gala hosts and CTV media personalities Rebecca Hall, left, and Jason Pires pose with Eventful Innovations' Pamela Buck at Nite of Hope Gala.
08 – Feathers and frills greet guests at the door of Nite of Hope as Julie Isaac, left, Lara Regan and Trisha Ewen watch over the red carpet entrance.
09 – Tori Alexander and mom Cindy, at Nite of Hope Gala, are two of the prettiest front door girls you'll ever meet.
– By Catherine Barr – Oct 14, 2011
Also as seen in print in the North Shore Outlook Newspaper on Oct 20, 2011
– – –

– – –