West Vancouver's Capilano Golf and Country Club was decked out in pink and silver sparkle this past Tuesday night as the Nite of Hope – Shoot for the Stars Gala Dinner and Fashion Show took place. MC Vicki Gaberau joined members of the Canadian Breast Cancer Foundation in welcoming guests who were treated to a night of fabulous food, entertainment and fashion shows featuring styles from West Vancouver's Phoenix and Romantique boutiques.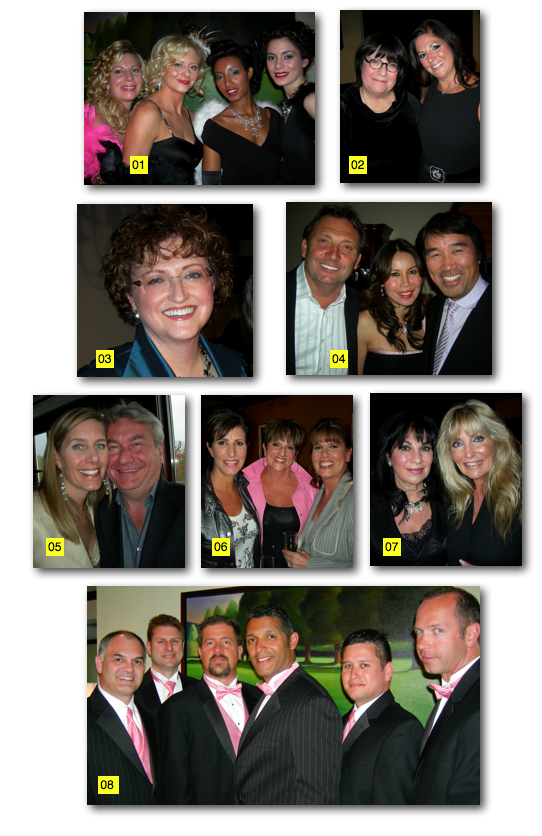 01 – Phoenix fashion models Alison Brown, left, Christine Stuit, Roza Joba and Cecilia Willmer greet guests in the lobby wearing glamorous diamonds and feathers and more.
02 – MC Vicki Gaberau, left, and organizer / survivor Lenora Gates are two West Vancouver gals who are happy to lend their support to this very worthwhile cause.
03 – Linda Morris, CEO of the Canadian Breast Cancer Foundation, BC and Yukon, is thrilled with the turnout.
04 – Enjoying the pre-dinner reception are friends Bob Repchuk, left, Angela and Graham Lee.
05 – Spotted at dinner table – West Van's Valerie and Ron Orr, of Granville's streets famous Roxy nightclub.
06 – There is nothing quite as nice as sisters. Lesley, left, Carey and Janine Fieldgate, who also works for our own NS Outlook, wait back stage with the models.
07 – It's a total bling thing thanks to Phoenix fashion owner and event co-chair Lin Rockwell as she prepares for the fashion show backstage with glamour gal Lori Rowe.
08 – They should be arrested for looking this good. Acting West Vancouver police chief Jim Almas, left, and his handsome crew of officers easily capture the hearts of all the ladies tonight as they lend a helping hand.
May 5, 2009 (published May 7, 2009)
Catherine Barr's column appears every Thursday in the North Shore Outlook – 60,000 copies delivered to homes in the North Vancouver and West Vancouver area If you wish to submit an event for coverage please fill in the form found here or email Cat at info@catherinebarr.com.