A look back at last month proves that summer really did arrive in grand style. Lots of local patio parties, a chic bikini fashion show and a grand gala at the Vancouver Aquarium were all on the schedule and gave us lots to talk about.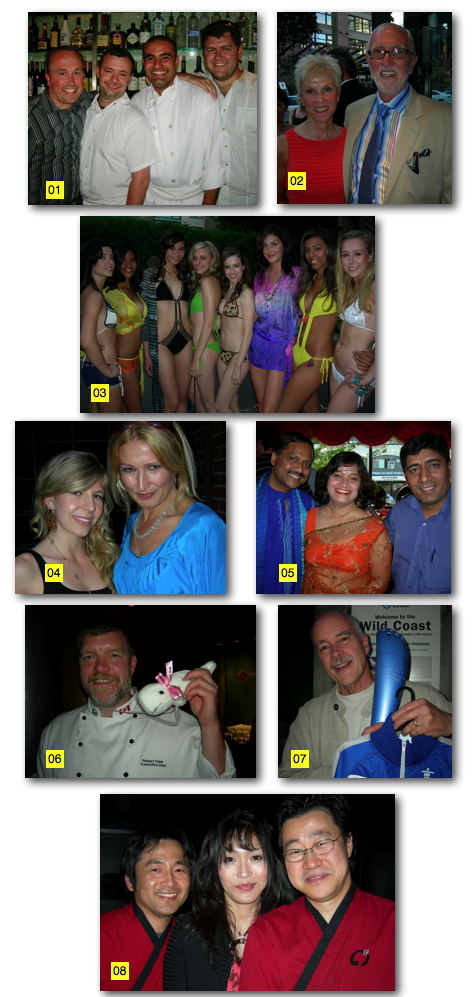 01 – The boys of Crave Beachside in West Van welcome VIP guests to the restaurant's new patio during their summer party. From left: manager Brooke Parker, sous chef Mike Earland, executive chef Mook and Andrew Chalmers.
02 – Goldfish (and Joe Fortes) owner Bud Kanke and wife Dotty celebrated with local celebs at the restaurant's Summer Splash party and fashion show.
03 – Anna Kosturova swimwear models were the toast of the town at the Goldfish Summer Splash fundraiser.
04 – West Vancouver's Deanna Palkowski, left, and swimwear fashion designer Anna Kosturova get things organized for the fashion show at Goldfish Summer Splash.
05 – Handi restaurant manager Amar Amroke, right, welcomes Ashok Das, Consul General of India, and his wife Dr. Erika Das to their West Vancouver summer patio celebration.
06 – C Restaurant's executive chef Robert Clark plays with a stuffed baby beluga in honour of the birth of the real deal at the Night at the Aquarium gala.
07 – Dr. John Nightingale, President of the Vancouver Aquarium, shows off some Olympic paraphernalia during the Night at the Aquarium gala fundraiser.
08 – Oceanwise Sushi anyone? West Vancouver's Zen Sushi chef Alex Kamizako, left, along with Karen and Nobu Ochi, serve up delicious sample plates at the Night at the Aquarium.
Published in the North Shore Outlook on July 2, 2009