The penguins weren't the only ones dressed in tuxedos recently as the Vancouver Aquarium held its' 6th annual Night at the Aquarium gala fundraiser. The champagne and caviar were also plentiful, as were the offerings from many of Vancouver's top restaurants and wineries who all came out to support the many programs and services offered by one of Vancouver's most popular places. A live mermaid greeted guests at the door and later on, even the dolphins and whales got in on the act before the evening wrapped up with the live auction and dessert. Over $316,433 was raised. Congrats to all involved.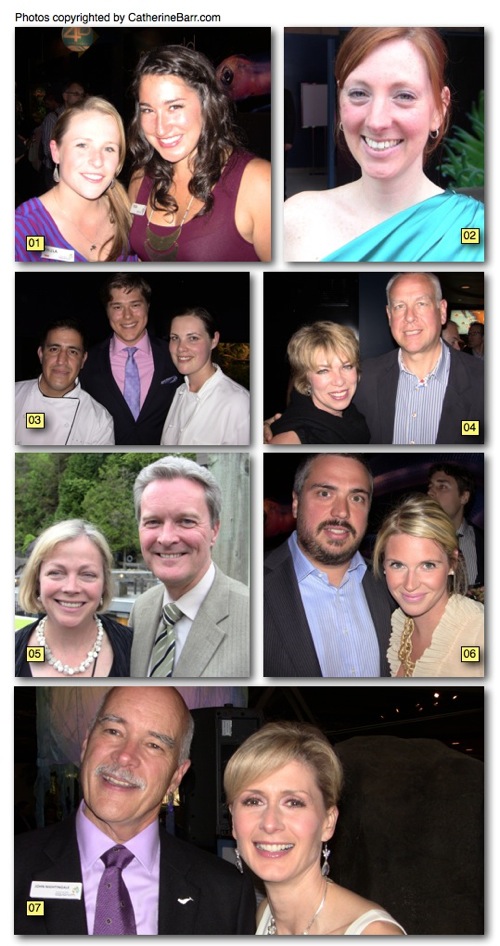 01 – Vancouver Aquarium interpretive speakers Paula Kalinowski, left, and Tessa Danelesko are the voices you hear when you go to see one of the live animal demonstrations. This night Tessa helps narrate the live dolphin show much to the delight of the crowd.
02 – Looking awesome in aqua, Vancouver Aquarium's Roxanne St-Pierre takes care of the communications and behind the scenes details.
03 – Fresh from Fraiche Restaurant in West Vancouver, chef Jefferson Alvarez, left, serves up samples for the guests with Kyle Davis and Kim Steel.
04 – West Vancouver lawyer Kim Moller and Christine Dahlberg take a stroll by the caviar table en route to the silent auction tables.
05 – BC Minister of Finance Colin Hansen and his wife Laura are among the VIPs in attendance.
06 – West Vancouver's beautiful Jody Rebak accompanies guest Chas Woodyer for a look at some of the fashionable auction items up for grabs.
07 – Vancouver Aquarium president and CEO John Nightingale chats with CTV news anchor Coleen Christie before she starts her duties as the event MC.
– – –
By Catherine Barr – June 21, 2012
Also as seen in print in the North Shore Outlook Newspaper on July 12, 2012
– – –

– – –