It's legendary – in more ways than one. West Vancouver's White Spot Restaurant, located at the corner of Taylor Way and Marine Drive, was a place of memories for many of us who grew up here. The Pirate Paks, the burgers and shakes, and the carhop service are all part of a history that stretches back almost 60 years. But even though the old locale is no more, do not dismay. It's time for new memories just less than a block away. The new White Spot Park Royal opened its doors last week with a star-studded VIP night to celebrate. The same great food and familiar faces are waiting to greet you but now with a modern lounge and updated room that is actually larger than the last. The restaurant is among the first to relocate to the new Park Royal South mall which continues to modernize with new parkades, stores and services. Sadly, there will be no more carhop, but a chic outdoor patio means more fun in the sun in the warmer weather. Congrats everyone.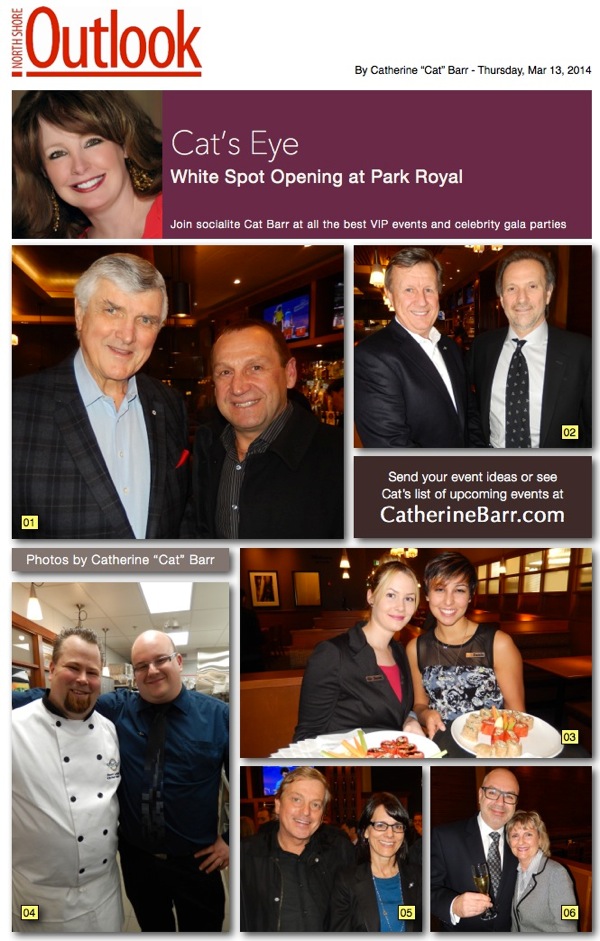 – – –
01 – Vancouver hockey legends Pat "The Big Irishman" Quinn, left, and Stan "Steamer" Smyl meet fans and friends at the restaurant's big VIP opening night party.
02 – Warren Erhart, White Spot President and CEO, joins Peter Toigo, Managing Director of Shato Holdings (White Spot's parent company).
03 – Serving up smiles and samples, Shannon McIsaac, left, and Chaundra Kazakoff keep hungry guests happy.
04 – Upholding the White Spot name in a gleaming new kitchen are chef/kitchen manager Steve Langridge and restaurant GM Harley Bennett.
05 – BC Restaurant and Food Services Association (BCRFA) CEO and president Ian Tostenson checks out the new dining room with wife Cathy Tostenson, White Spot's vice president marketing.
06 – Park Royal's Rick Amantea congratulates Shato Holdings' leasing director Heather Grant on a successful opening celebration.
– – –
By Catherine Barr – February 27, 2014
Also as seen in print in the North Shore Outlook Newspaper on Mar 13, 2014
– – –

– – –