The New Year is always a good time for a little resolution and change. Such is the case with a North Vancouver entertainment group that is anxious to bring the party back all year long. The Two Lions Public House, formerly known as the Mosquito Creek Bar & Grill, has swung open its doors to a new crowd, new menu and new attitude. Now owned by the Jennings Hospitality & Culture group (who also own the Narrows Pub, London Pub, Caffe Brixton and The Manchester), the establishment has been renovated in more ways than one. Comfort food, local beers, hockey games and karaoke are all still there though as is the live music roster which will include appearances by former Roxy house band Joe's Garage. The opening night party took place last week where friends and guests were invited for a sneak peek look at what's in store. Cheers!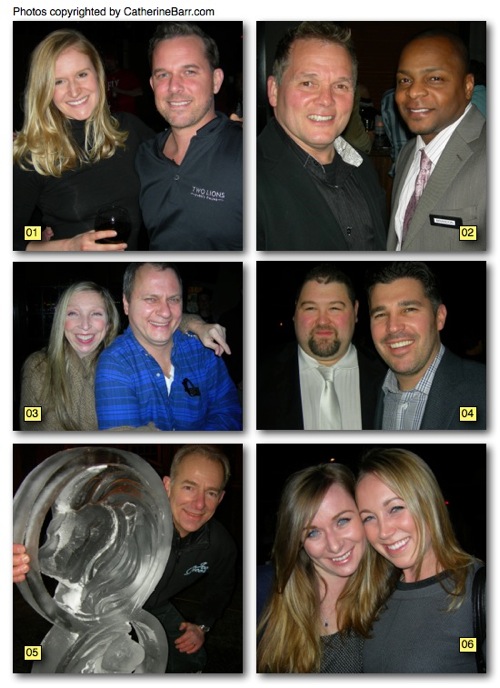 01 – Belly up to the bar and see servers Adryon Campbell and Travis Todd for a cold one.
02 – Real estate agent Grant Gardiner congratulates general manager Brandon Price on a successful opening night preview.
03 – Enjoying the new digs and a bar stool with a view are guests Kelly Davies and John Pavle.
04 – Marketing director Dan Tanner, left, and owner Steve Jennings are looking forward to delivering all kinds of live music and sports action to the North Shore and a great place to hang out.
05 – Ice Decor's Harold Sawatsky worked outside with his saw to create this impressive "Two Lions" ice sculpture to celebrate the first big night.
06 – Enjoying the live music of the opening night bands, friends Megan Dalton, left, and Jaclyn Callaghan take in all the action.
– – –
By Catherine Barr – Jan 13, 2013
Also as seen in print in the North Shore Outlook Newspaper on Jan 17, 2013

– – –