Hard to believe that in many parts of the world slavery is still an everyday occurrence. Enter West Vancouver Mulgrave students Natasha Virani, Melissa Godin and Hannah Radford who, along with the Mulgrave Student Action Council, decided to do something to raise awareness of this issue as part of their school's "Spirit Week" activities. Together, they held a special benefit concert at the school to raise money for the "Not for Sale" movement which helps victims of human trafficking after they have been rescued. Congratulations to all those involved. Also, since summer is right around the corner, it seems fitting to mention the arrival of The Bar Method West Vancouver. An opening night party held recently gave locals a chance to tour the new fitness facility that has everyone talking. Part ballet, part Pilates and part yoga, this nouveau workout helps shake off the pounds just in time for beach weather.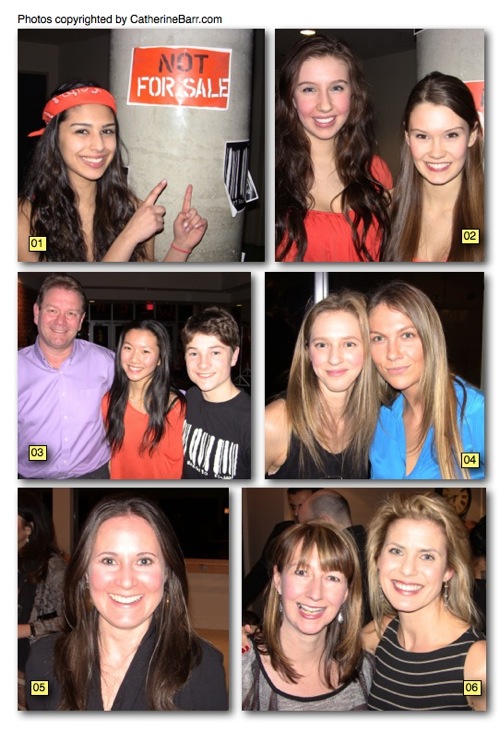 01 – Dressed in signature orange, event organizer Natasha Virani helps MC the special benefit concert held at Mulgrave school in support of "Not For Sale" and the fight against human trafficking.
02 – Mulgrave students Melissa Godin and Hannah Radford show their school spirit by helping raise money in the fight against slavery at the "Not for Sale" benefit concert.
03 – Mulgrave principal John Wray comes out in support of the "Not for Sale" benefit along with students Annika Lee and Matthew Zwimpfer.
04 – The Bar Method studio manager Ella Wilson, left, welcomes guests to the new fitness location with PR gal Carine Redmond at the opening night reception.
05 – No pain, no gain? The Bar Method owner Carolyn Williams says she has the recipe for success that combines a little yoga, pilates and ballet into one great workout.
06 – Taking a tour of The Bar Method's new digs are Christine Baracos, left, and Alissa Philip.
– – –
By Catherine Barr – March 7, 2012
Also as seen in print in the North Shore Outlook Newspaper on March 15, 2012
– – –

– – –