So many events, so little time. Here's a roundup of some of the spectacular fundraisers and opening night celebrations that took place over the last week or two.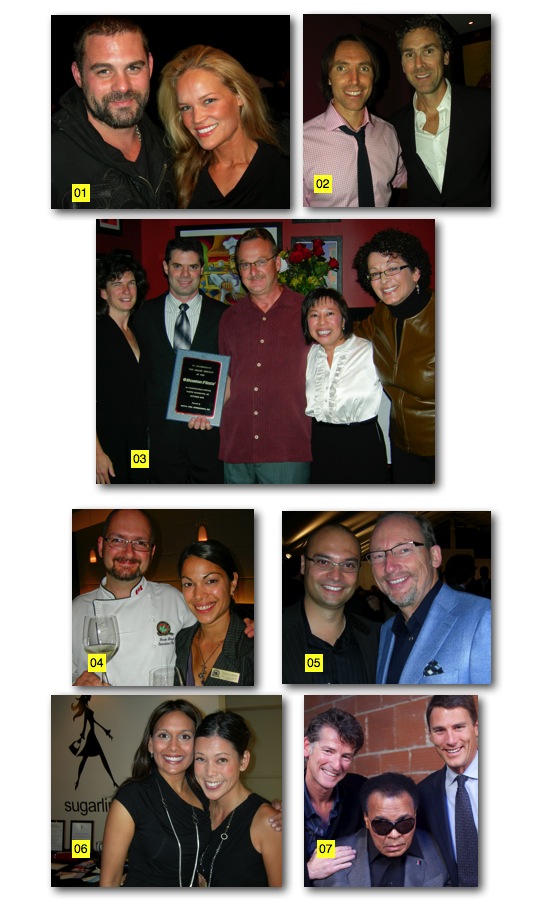 01 – North Vancouver's Jason Dussault, seen here with girlfriend/model Mashiah Vaughn, whose best known for his super-star endorsed clothing line Deuce, sits front row at the Boys' Co. 25th Anniversary fashions show and party.
02 – Nanaimo born NBA star Steve Nash, left, and NHL Canucks hero Trevor Linden come out for the kids in support of Steve's foundation fundraiser "Showdown in Downtown".
03 – With a wall of TV screens to make you scream, the chic new Boston Pizza, (located at Esplanade and Chesterfield) will be the place to be seen during the game. From left: Franchisee Darrell Lesueur and wife Lisa, Owner/Operator Neil MacLeod and wife Judy, and Caroline Schein, VP of People Development.
04 – A toast to Terminal City Club executive chef Jason Lloyd and sommelier Teresa Alampur for helping to host the fabulous Vina Tamaya / Vina Morande Wines of Chile winemakers' dinner featuring stunning plates and presentations.
05 – North Van's Adam Wickstead, left, GM of Pacific Overseas Forwarding Inc. and Jan Beringer, President and CEO of Rohde & Liesenfeld Canada Inc. generously sponsor the vodka lounge at the Arts Umbrella's SPLASH art auction event on Granville Island.
06 – Partner Roshni Naik, left, and owner Karen Buder are the toast of the town at their sparkly Sugarlime Soiree 2009 fundraiser held at the Vancouver Art Gallery in support of BC Children's Hospital.
07 – "Facing Ali" producer Derik Murray, left, and Vancouver Mayor Gregor Robertson, right, are among the VIPs who got to meet legendary heavyweight champion Muhammad Ali during a special screening/reception at the Vancouver International Film Festival.
– Catherine Barr
As published in the North Shore Outlook newspaper on October 22, 2009