It's always been about families and fun. But now, with the added glamour of a Friday night gala, Lynn Valley Days has indeed become the little festival that grew. Close to 500 guests donned their spring formal wear to attend the 3rd Annual Gala Dinner and Dance last Friday night to celebrate. A delicious buffet dinner, live music and silent auction items helped raise funds for the North Shore Rescue team. Congratulations to everyone involved.
– – – – – – – – – –

Don't forget to visit NorthVancouver.com
– – – – – –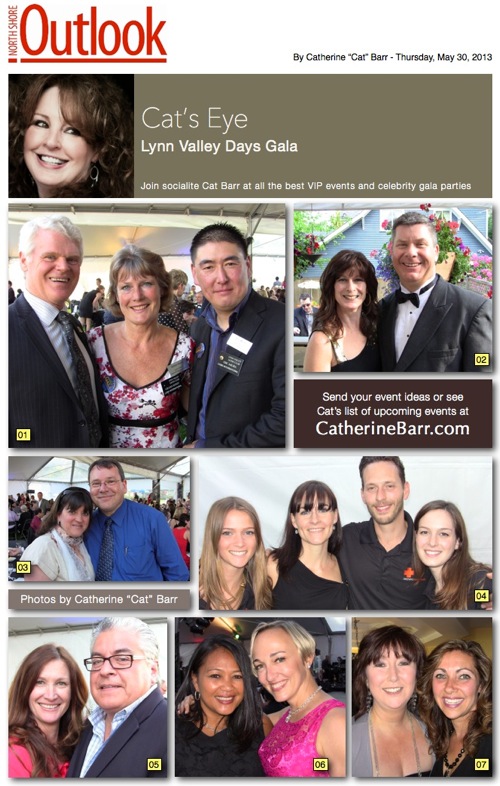 01 – Job well done! A round of applause for Peter Haigh, left, from North Shore Rescue, Lynn Valley Days committee member Gillian Konst and Lynn Valley Community president and Lions Club member Eric Miura.
02 – Best dressed award goes to Lynn Valley Community Association's Tim Green, seen here with wife Cheryl, who is happy to perform the MC duties for the night.
03 – Big thanks to Jim Pattison Hyundai's Rob Ibbitt and his wife Patricia for their support of the gala this evening.
04 – Keeping gala goers well watered with wine and cocktails are Brown's Social House staffers Victoria MacIver, left, event coordinator Liz Campomar, bartender CJ Kerr and Emma McLellan.
05 – So much fun sharing a table and celebrating with Self Storage Depot general manager Alex Gwilt and Wendy.
06 – Girls just wanna have fun! Charito McKay, left, enjoys a night out with friend/realtor Elizabeth Dyer.
07 – Belles of the ball. The Outlook's own Jeanette Duey, left, attends a special pre-gala reception party generously hosted at the home of Cindy Lanctot and her husband Jim.
– – –
By Catherine Barr – May 24, 2013
Also as seen in print in the North Shore Outlook Newspaper on May 31, 2013

– – –