It was called Luxury Supercar Weekend, but it has actually been a week long event consisting of parties, launches, dinners and more. Aston Martin, Lamborghini, Porsche, Ferrari and Rolls Royce were all part of the mix as the supercars rolled into town to show off their wheels. And car lovers everywhere were in heaven as they got a chance to choose and schmooze at events all over town. The week of excess came to close with the biggest party of them all at the Concours d'Elegance two-day affair where prizes were handed out for the best of the best. Congrats to everyone involved.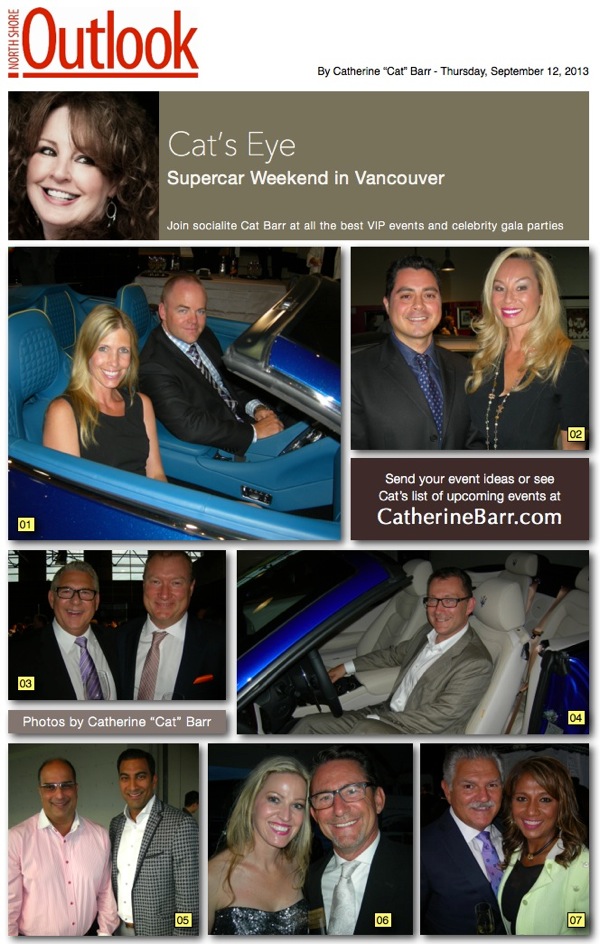 01 – You couldn't possibly be blue in this. MCL Motorcars' Tanis Sullivan and general sales manager Dean Rideout take the top down on the new Aston Martin 2014 Vanquish Volante – the only one in the world!
02 – Hosting a fabulous Ferrari dinner at Francesco's Restaurant, William Urea welcomes VIPs like former Real Housewives of Vancouver cast member Reiko Mackenzie.
03 – Taking in all the glamour at the new Roll Royce "Wraith" launch party are David Alexander, left, of Dick's Lumber and Craig Beere, of Beere Timber.
04 – Ferrari Maserati Vancouver general manager Mark Edmonds looks perfectly at home behind the wheel of this stunning new blue and white Maserati convertible.
05 – West Vancouver real estate pros Karim and Haneef Virani host one of the week's best parties at Ferrari Maserati Vancouver.
06 – Congratulations to the amazing Hayley Fazli who puts on the ritz for a night of elegance at the Roll Royce "Wraith" launch. Seen here with M&P Yacht's Joe Johnston, the night included vintage Roll Royce cars, ice sculptures, opera singers and more.
07 – AllWest Insurance's Paul and Devina Zalesky are major sponsors of most of the week's events, including the Roll Royce "Wraith" launch night.
– – –
By Catherine Barr – Sep 6, 2013
Also as seen in print in the North Shore Outlook Newspaper on Sep 12, 2013
– – –

– – –