It was a celebration of women, fun and fashion at the Fairmont Pacific Rim hotel last week as guests gathered to join in the fight against ovarian cancer. Still considered the most fatal of all women's cancers, the 2014 Lover Her Gala celebrated the memory of those we've lost while helping to raise funds for Ovarian Cancer Canada (the only national charity dedicated solely to overcoming ovarian cancer). Despite the solemn nature of the cause, laughter and smiles were still the order of the night as Canadian comedienne and former Royal Canadian Air Farce star Jessica Holmes took to the stage in a hilarious tribute. A fabulous fashion show by Marilyn's and VG Shoes ended with the men in the audience being encouraged to come up on stage and, for a modest donation, strut their stuff on the catwalk – much to the delight of the whole audience.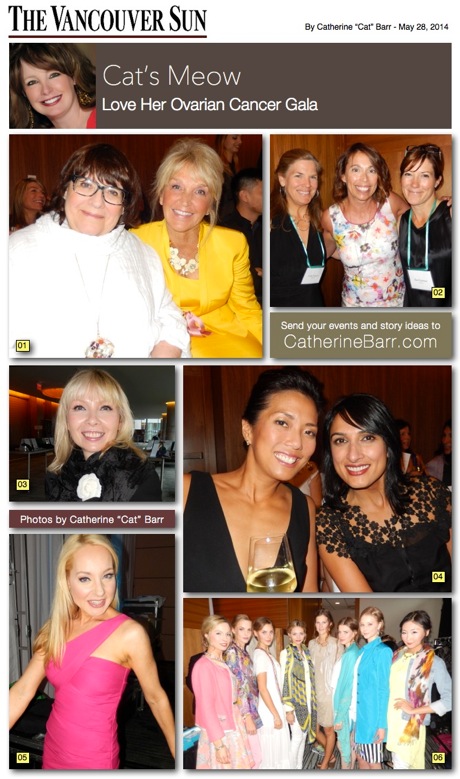 – – –
01 – Media mogul turned shoe maven Vicki Gabereau, left, teams up with gal pal and West Vancouver fashionista Marilyn Diligenti to put on a fashion show to remember.
02 – Love Her 2014 Gala event chair Rose Keith, centre, poses with volunteers Catherine Paterson, left, and Sheri Eastman.
03 – Honourary event chair Yvonne Zawadzki, of Birks fame.
04 – Global TV anchor Sophie Lui, left, and Global National BC's Robin Gill.
05 – She's got a wealth of impressions up her sleeve. Impersonator/comedienne Jessica Holmes had everyone roaring with laughter.
06 – Models from Marilyn's and VG Shoes prepare backstage for the big show.
– – –
By Catherine Barr – May 28, 2014
Also as seen in the Vancouver Sun Newspaper
– – –
By Catherine Barr




www.CatherineBarr.com  |  www.WestVancouver.com  |  www.NorthVancouver.com
– – –