Louis Vuitton – they're the envy of every purse toting gal in the world and a name automatically associated with class, luxury and style. So when my gilded gold Louis Vuitton invitation arrived, I expected only the best, and boy did they deliver. In my 12 years as a society columnist, I have never seen a party like this. The who's who of Vancouver and the North Shore were decked out in style as they arrived to a champagne reception at the swank new Fairmont Vancouver Hotel location. Even Hollywood celebs and models dropped by to chat with executives who had flown in directly from Paris for the affair. Then, in groups of four, we were shuttled away swiftly in mysterious black SUV's to a secret train station stop where porters helped us board an old fashion steam train. More champagne, and a five minute ride later, we were again surprised to find ourselves inside an old fashion train station decorated to the hilt and complete with DJ, live music, food and fun. It was definitely a night to remember. Congrats to all involved.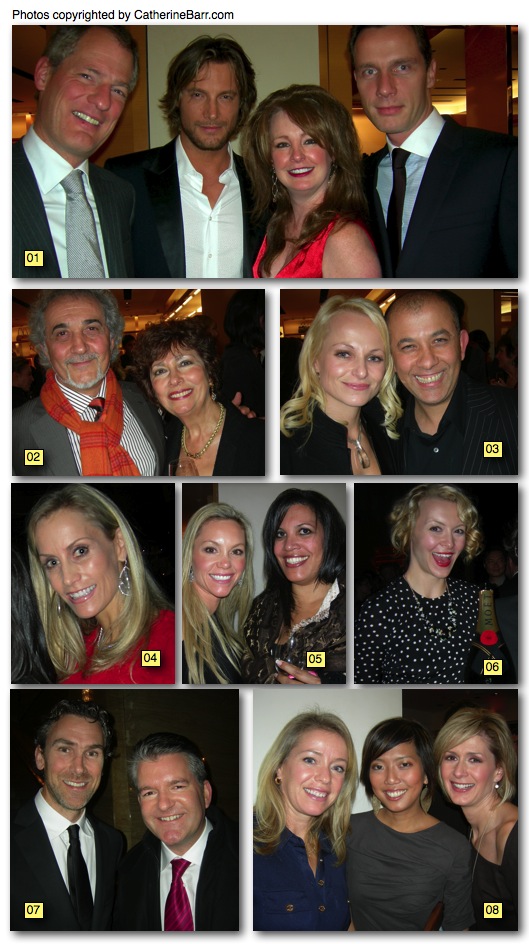 – –
01 – What a thrill to get to meet Louis Vuitton Executive Vice President Phillippe Schaus, left, all the way from Paris with Louis Vuitton supermodel Gabriel Aubry (ex-boyfriend to Halle Berry and Kim Kardashian) and Geoffroy van Raemdonck, acting President of Louis Vuitton North American.
02 – North Shore's famous Carmelina and Pasquale Cusano, of Montecristo Jewellers, take in the scene at the new Louis Vuitton store downtown.
03 – West Vancouver's fabulous Shannon Bosa-Yacoub and hubby Emad Yacoub, of Glowbal Group Restaurant fame, make their way into the mock station.
04 – West Vancouver's stunning Janelle Washington attended the event with friends.
05 – Socialites and UBC sorority sisters Christie King, left, and Darcia Bower share some conversation in the lobby.
06 – Looking like a model herself, PR maven Shannon Heth shows us how to pour from the Moet magnum bottle.
07 – Canucks hockey hero Trevor Linden, left, congratulations North Vancouver's Mike Killeen on his recent promotion to 6 o'clock news anchor at CTV BC.
08 – Big shout out to TV gal pals Randeen Neil, left, Sophie Lui (Global TV) and Coleen Christie (CTV BC) as they get ready to board the train.
– –
By Catherine Barr – Dec 8, 2010
Also as seen in print in the North Shore Outlook newspaper on Dec 16, 2010