Star-studded arrivals on the red carpet, a champagne reception, beautiful gowns and real-life movie stars. The annual Leo Awards are, without a doubt, Vancouver's best glitz and glamour night. It's all about honouring the fabulous local talent that works both on and off the screen here in BC's movie and television industry. But Vancouver's "Night at the Oscars" wouldn't be anything without the hard work of the North Shore's own Sonny Wong and Walter Daroshin – two men who have dedicated more than a dozen years to promoting and producing the best this province has to offer. Congrats to all involved.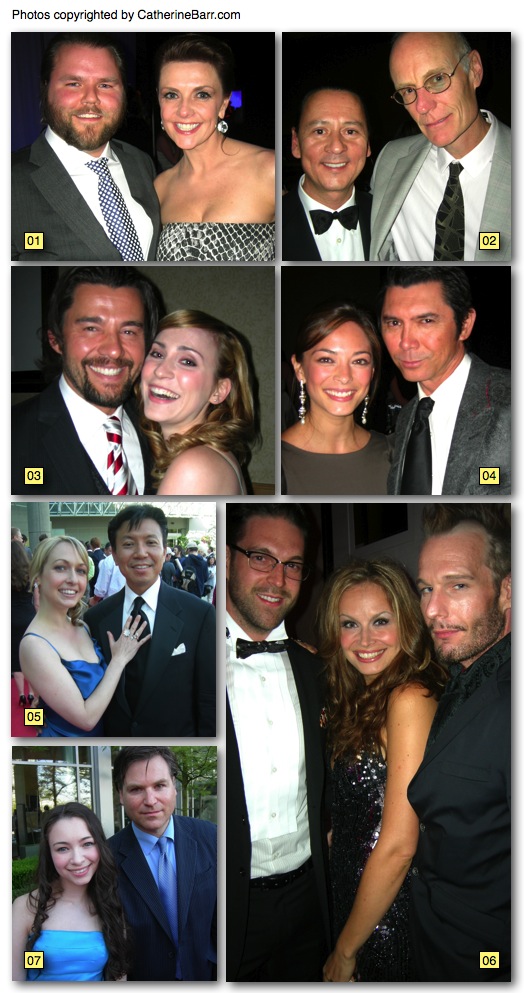 01 – Presenting on stage are two former Leo Award winners, Tyler Labine of TV's "Reaper" fame and West Vancouverite Amanda Tapping of both "Stargate" and "Sanctuary" TV fame.
02 – Leo Awards producer and local North Vancouverite Walter Daroshin, left, chats with actor Matt Frewer whose long list of credits include "Max Headroom", "Intelligence" and the block buster movie "Watchmen".
03 – Having some fun backstage before presenting their awards are Croatian hunk Steve Bacic, of "The Guard", "Andromeda" and "NCIS: Los Angeles" and Jessica Harmon, who also won a Leo this night for her work on "Wolf Canyon".
04 – Kristen Kreuk, who plays lovely Lana Lang on TV's "Smallville" was lucky enough to get to present the last award of the evening with "La Bamba" movie star Lou Diamond Phillips, who is in town filming the new "Stargate Universe" series with "The Full Monty" star Robert Carlyle and cast.
05 – Shaw TV's Johanna Ward shows off her Birks' bling ring on the red carpet with Leo Award's founder Sonny Wong.
06 – Leo Awards hosts/actors (and former Leo winners) Benjamin Arthur, left, and Sonya Salomaa cuddle up to presenter Michael Eklund who is sporting a nuclear waste inspired hairdo for his role in the upcoming feature Final Storm with Luke Perry and Lauren Holly.
07 – Directory/producer Paul Armstrong was proud to introduce up-and-coming starlet and Leo nominee Jodelle Ferland whose life is about to change dramatically as she is unveiled to the world next month as "Bree" at the Los Angeles premiere of "The Twilight Saga: Eclipse"
– –
By Catherine Barr – June 5, 2010
As seen in print in the North Shore Outlook newspaper on June 10, 2010
– –