It's been fun in the sun all summer long at North Vancouver's Lonsdale Quay. Summer Fest 2010, proudly sponsored by the North Shore Outlook, has been the scene of song and dance, food and fun every Friday, Saturday and Sunday. Live concerts, market displays and more have kept the crowds coming, and all in support of the Lions Gate Hospital Foundation. An especially popular day has been the Kids' Friday Charity BBQ where the stage comes alive with entertainment especially for the little ones and a helping hand of hot dogs fresh off the grill to help fundraise.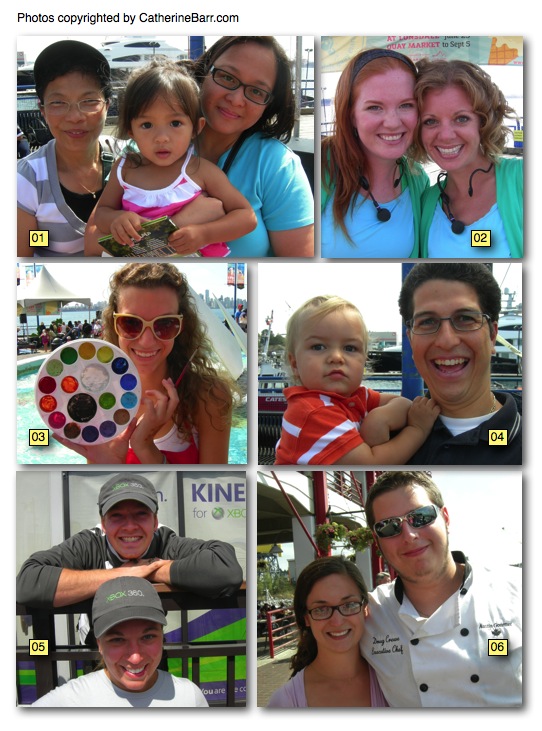 01 – Little two year-old Sofia Villamil got a chance to try out her dancing legs with grandma Vilma, left, and mom Digna at the live lunchtime concert at the Quay.
02 – With songs like "Recycle with Me", "I Love Bugs" and "The Right Track", the musical duo of Bobs (Robyn Hardy), left, and Lolo (Lorraine Pond) deliver a decidedly positive and progressive message to the kids during their live performance.
03 – Face painting and animal balloons make Rachel McRory, of A-Star Art Parlour, one of the more popular attractions on Kids' Friday.
04 – Ivan Contramaestre and two year-old son Miguel take a dance around the dock as the live music starts on the stage at the Lonsdale Quay Summer Fest.
05 – Charles Boltas and Danielle Sanders look after the line-up to the new Kinect XBox 360 game display booth where new technology now allows you to control your avatar without the use of a wired in controller – neat!
06 – Lonsdale Quay's marketing assistant Sonja Zoeller, seen here at the charity BBQ with chef Doug Crewe of Austin Gourmet, has spent her summer grillin' and chillin' to help raise money for the Lions Gate Hospital Foundation.
– –
By Catherine Barr – August 20, 2010
Also published in print by the North Shore Outlook newspaper – Aug 26, 2010