Two high profile events helped round out the last week as some high flyers and some high achievers put on the ritz to celebrate. First up, London Air Services, celebrated their 10th Anniversary with the opening of their new avation centre in YVR's south terminal and the christening of their newest bird – an impressive Challenger 605 that is first class luxury all the way. Next, the stars were out at the Vancouver convention centre for Inclusion Works '09 – a hiring and recruiting event hosted by the Aboriginal Human Resources Council.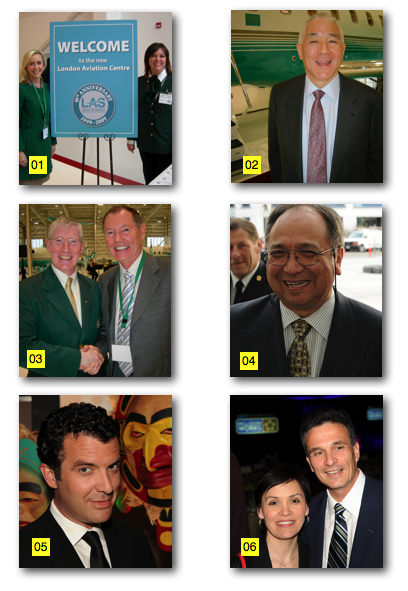 01 – Ready for take-off. Dressed in flight gear and uniforms, the employees of London Air Services greet VIPs at the new hangar.
02 – With quiet reserve and class, Brandt Louie continues to successfully grow his London Air Services company, which just happens to be part of the H.Y Louie Co. empire that includes IGA and London Drugs.
03 – GW. (Wynn) Powell, left, President and CEO of London Air, has good reason to be proud as he and John C. Scott, of Scott Construction Group, unveil the new hangar.
04 – The Honourable Steven L. Point, OBC, the Lieutenant Governor of British Columbia, is proud to be at the Inclusion Works gala. He is also known by his native name, Xwĕ lī qwĕl tĕl.
05 – CBC funny man Rick Mercer, of Rick Mercer Report, helps liven up the evening at Inclusion Works 09 – Prime Minister jokes extra. 
06 – Inuit singer Susan Aglurkark, known best for her hit song "O Siem", meets Kelly Lendsay, President & CEO of the Aboriginal Human Resources Council.

April 6, 2009 (published April 16, 2009)
Catherine Barr's column appears every Thursday in the North Shore Outlook – 60,000 copies delivered to homes in the North Vancouver and West Vancouver area If you wish to submit an event for coverage please fill in the form found here or email Cat at info@catherinebarr.com.