Can you imagine having no schools or hospitals? How about no crops or food? Sadly, this is real life for entire populations of people living in Africa. It is also the life many children are born into with little hope for the future. Lift The Children is trying to change all that. With 10,000 children in more than 80 orphanages, Lift The Children is an organization "dedicated to seeking out the world's most destitute children and providing them with the necessities, training and inspiration they need to develop, grow, and become self-sufficient." Recently, at the glamorous Fairmont Pacific Rim Hotel in Vancouver, guests and VIPs came out to support the society with a magical fundraising evening. Featuring a live auction, and live entertainment by comedian Jason Hewlett, the event raised more than $735,000 for the charity.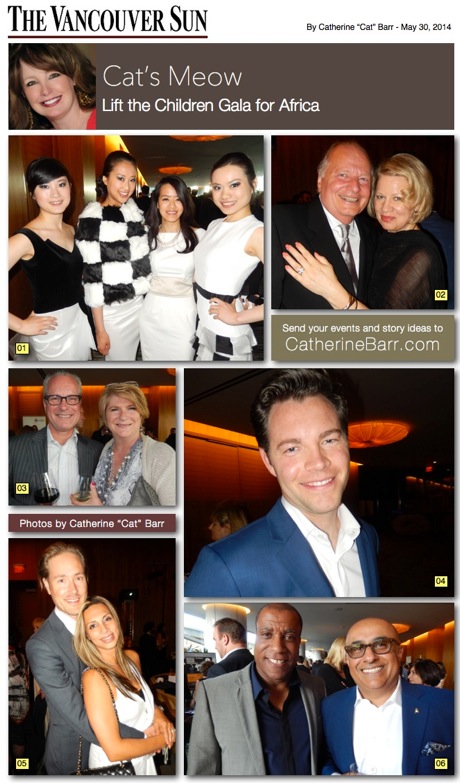 – – –
01 – Fashion designer Grandy Chu, second from right, poses with her models to show off the latest black and white styles.
02 – Helping support the cause are Bill and Lauren Persson of Fino Lino fame.
03 – Rene and Deb Palsenbarg mingle during the cocktail reception.
04 – Funny and talented, entertainer/comedian Jason Hewlett had everyone laughing out loud.
05 – Beautiful Naz Taylor finally got to spend some time with partner Geoff after a busy day as organizer.
06 – Enjoying some conversation before the dinner are Adrian Alleyne and Asgar Virji.
– – –
By Catherine Barr – May 31, 2014
Also as seen in the Vancouver Sun Newspaper
– – –
By Catherine Barr




www.CatherineBarr.com  |  www.WestVancouver.com  |  www.NorthVancouver.com
– – –