Liberty Wines, who was known for their famous annual oyster festival each January, has got a whole new look. They've shucked off the old shell and now are getting rave reviews for their new annual Taste of BC event at the Hyatt hotel. Lots of North Shore faces in the crowd got a chance to sip and sample from a wide range of wineries and dineries and all for a very good cause – BC Children's Hospital.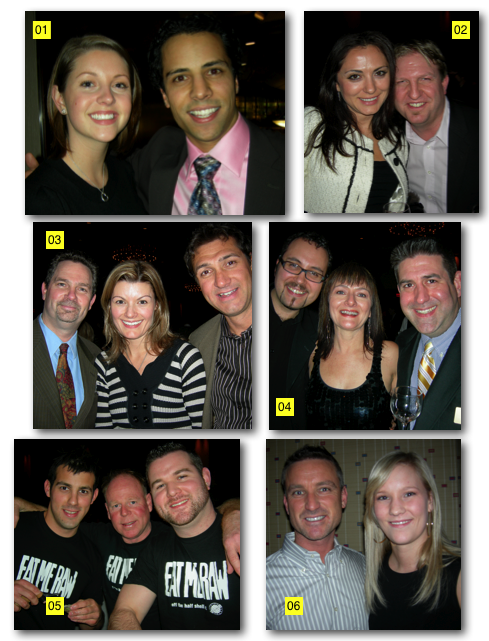 01 – Briar Wilson and Kal Suukask of Elevation PR greet guests as they arrive at the Hyatt. 02 – Maryna Silynska accompanies Stiles Wines' own Paul Jordon to the tasting tables. 03 – A round of applause for Liberty Wines' Robert Simpson, left, and Regan Schwartz, seen here with guest Andrew Wilson, for putting on such a great event. 04 – West Van's Tyler Dawson, right, who manages the Park Royal store, enjoys the sounds of Lesismore band featuring Curtis DeBray, left, and lead singer Leslie Harris. 05 – The men of Rodney's Oyster bar, namely Jonathan Merril, left, Tim O'Halloran and Ian Peck know what it takes to be a sexy mother schucker. 06 – Pouring wine samples from some very nice bottles are West Van's Chris Perry and Victoria Novakowski.

January 22, 2009 (published Feb 12, 2009)
Catherine Barr's column appears every Thursday in the North Shore Outlook – 60,000 copies delivered to homes in the North Vancouver and West Vancouver area If you wish to submit an event for coverage please fill in the form found here or email Cat at info@catherinebarr.com.