It was fringes, flappers and fun last week as the North Vancouver City Library's annual "Libations" fundraising gala was held at the new North Vancouver Pinnacle Hotel at the Pier. The beautiful ballroom was magically transformed into "The Great Gatsby: Boas and Books" theme complete with live Roaring Twenties music generously provided by Clyde Mitchell and his spectacular Sinfonia orchestra. Live and silent auctions, and a chance to rub shoulder with authors and local dignitaries made this night a total success. Congrats. Also last week, West Vancouver's Leone family played host to invited guests at a special showing of artist Gina Miller's "Feel the Essence, Hear the Bloom" art collection.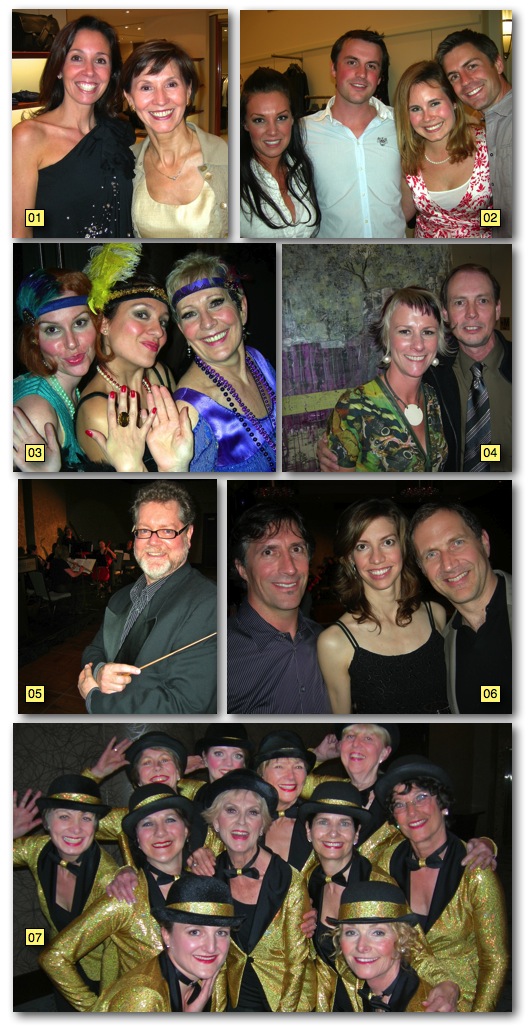 01 – West Vancouver's lovely Leone ladies, daughter Patrizia and mom Maria, look absolutely stunning at the evening showing of Gina Miller's Art.
02 – Taking in some art at the Leone night are L2 sales clerk Kristen, left, with PR gal Kim Bowie and brothers Cory and Reid Matheson of Exposure Travel.
03 – Boop-boop-a-doop. Wearing bright coloured feathers the ladies of the North Van Library sell raffle tickets and help raise funds.
04 – Artist Gina Miller poses in front of some of her works with her brother, North Vancouver realtor Greg Pearson.
05 – Playing a little Scott Joplin to get us in the mood at the NV Library gala is Sinfonia's superstar conductor Clyde Mitchell.
06 – North Van City Library board chair Barry Chilibeck, left, chats with North Van City councillor Guy Heywood and his wife Lynne Charbonneau.
07 – These glamorous gals in gold lame are world famous! Making a special appearnace at the NV Library Gala, The North Shore's own Hot Flash Hoofers easily dance their way into our hearts.
– –
By Catherine Barr
Published in print in the North Shore Outlook on May 6, 2010