For 15 years now, the Leo Awards have helped shine the spotlight on hundreds of talented people working in BC film and television. And yet, after all these years, it happily continues to mix glamour and humility into a perfect combination that seems to get only better with age.
The actual Leo Awards gala event, held this past Saturday at Vancouver's Westin Bayshore Hotel, is an annual "Oscar" style evening complete with red carpet, champagne reception, live music, gourmet dinner and, of course, the awards show itself.
The big night has always been a favourite of mine. And after covering the "Leos" for about 13 years now (see archive here), this veteran can truly say that this year's anniversary show was one of the best.
Maybe it was because of all the beautiful young starlets – each one dressed to cover model perfection as they stepped onto their first real red carpet. Maybe it was the fabulous live orchestra led by the amazing Hal Beckett. Or maybe it was all the handsome leading men, like Ryan Robbins, Ben Ratner and Ian Tracey – each a seasoned professional with big bankability here in BC and beyond.
All of these elements were there. But maybe the biggest reason for success was the sense of accomplishment and sincerity that show producers Walter Daroshin and Sonny Wong again managed to weave into a magical evening where, for one night only, it was okay for this tight-knit local industry to stand up and do a little well-earned Hollywood style chest thumping.
The night began with a bang as actress Beverley Elliott, who plays the role of "Granny" in ABC TV's Once Upon a Time series,  got on stage to sing a rabble-rousing version of Adele's "Rolling in the Deep". Entitled "Filming in BC", the song was a hilarious reference to many of the ins and outs of working in the industry. It also poked fun at directors, producers and BC Film's recent campaign for government tax cuts – all of which garnered big laughs and cheers from the audience.
Next up – the comedic husband and wife duo of Brent Butt and Nancy Robertson. Needing little introduction, the pair launched into a routine of perfectly timed jabs and jokes – and some not so perfectly planned improvised moments that turned out to be more hilarious than the planned script. No one was safe as they took pot shots at everything from the technical difficulties to the long-winded awards presentation itself.
Other highlights this evening included a special 40th anniversary tribute by actor Jackson Davies to the legendary The Beachcombers series – a series which not only put the west coast of Canada on the map, but also triggered the birth of Hollywood North. Also this night, the many achievements of producer/director David Nutter were honoured with the Stephen J. Cannell award for all of  great work in BC – much of which dates back to the days of Johnny Depp in 21 Jump Street.
Still, the night belonged to the nominees and Leo Award honourees who will hopefully look back on it all as a night to remember. And whether their careers take them all the way to the Academy Awards, or just to the next cattle call, I know they will all never forget that it all started right here in little ol' British Columbia.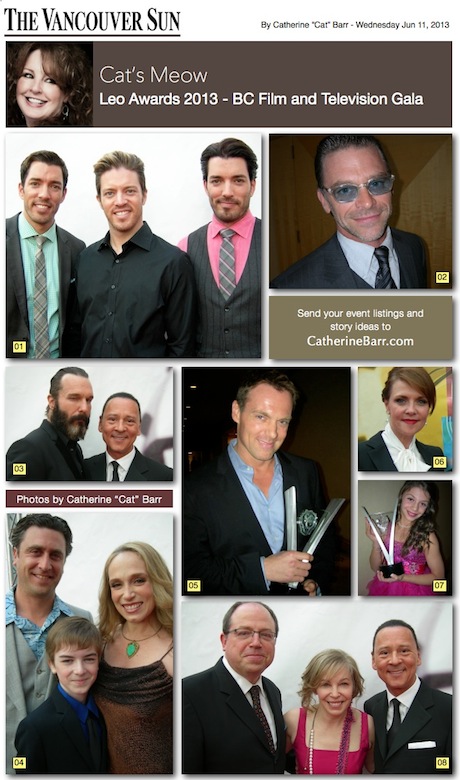 01 – Hubba hubba! Looking just as tall and handsome in real life, Property Brothers stars Drew Scott, left, and Jonathan Scott, right, are Leo presenters this night. Playing man in the middle, big brother JD comes along to keep them out of trouble.
02 – Channeling a little Jack Nicholson, the ruggedly sexy Ian Tracey takes home two Leo Awards this night for his work in both Continuum and Ring of Fire.
03 – Always in character, actor Michael Eklund shares a red carpet moment with Leo Awards president Walter Daroshin. Eklund would later take home the award for his work in Errors of the Human Body – a project he said was "life changing" in many ways.
04 – The cast members and Leo nominees of Becoming Redwood walk the red carpet in style. From left: director  Jesse James Miller, actor Ryan Grantham and actress Jennifer Copping. Both Miller and Copping would take home Leos this night for their work in The Good Son – The Life of Ray 'Boom Boom' Mancini and for Becoming Redwood respectively.
05 – He's a charming lead man in every way. Actor Michael Shanks, of Stargate and Smallville fame, takes home a Leo for his work in Saving Hope.
06 – She's always the epitome of elegance on every red carpet. This year, actress Amanda Tapping walks the walk in a sleek and stylish black pantsuit. Win!
07 – Taya Clyne is adorable in every way, yet carries herself with the seasoned confidence of a true pro. Taking home the Leo for "Best Female Performance in a Short Drama", she also wins my vote for best dressed in her fabulous fuchsia gown.
08 – You know you're in for a good time with comedians Brent Butt and Nancy Robertson as hosts. Chatting with Leo Awards president Walter Daroshin prior to the show, the trio poses for media photos together on the red carpet.

– – – –
By Catherine Barr
www.CatherineBarr.com  |  www.WestVancouver.com  |  www.NorthVancouver.com