False eyelashes have recently made a huge comeback in the fashion world. But take heed ladies, because when it comes to "falsies", these are not your grandmother's lashes anymore. Extensive leaps and bounds in the technology means that not only can you leave those tacky latex glues behind – now you can keep them on night and day. Enter Mara and Lisa – two enterprising West Vancouver ladies who realized that there was a big need for the service here on the North Shore. Together they opened Lash Fabulous on Marine drive with a summer bash that saw friends, family and invited guests toasting the occasion in style. Complete with funky purple decor and luxurious lounge setting, this specialty spa is bound to be a hit with lovely ladies everywhere. Congrats!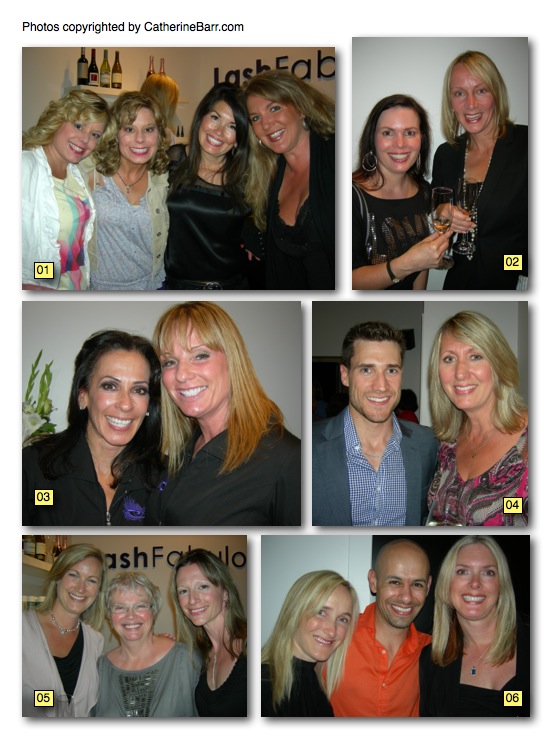 01 – Let's hear it for the girls of West Vancouver. From left: Lori Shea, sister Cindi George, MJ Thompson and Andrea Armstrong.
02 – Guests Ana Knight, left, and Jacqueline Filippone join in the opening celebrations with a toast and some bubbles.
03 – Lash Fabulous owners Mara Uhrle, left, and Lisa Tomanik are batting 1000 with the latest trend in lash extensions.
04 – Misencil lashes and product rep Matt Audet joins PR gal Diana Zoppa at the opening of the spa.
05 – Joining in the friends and family party are Linda van Mook, left, Georgina Marsom and Diana Pascuzzi.
06 – Dropping by with best wishes for the new business are friends Natalie Golan, Yuval Golan and Sandra Weber.
By Catherine Barr – July 2012
Also as seen in print in the North Shore Outlook Newspaper (Black Press)