Grand Villa Casino welcomes Dueling Pianos to the Scala Lounge beginning Thursday, February 10, 2011 and running through March 28.
Taking its cue from Las Vegas, the Grand Villa Casino's Scala Lounge is now home to Dueling Pianos, a one of a kind, live, entertainment experience. Featuring the country's best piano entertainers who incorporate outrageous, high-energy music of all styles, requests, improv and audience participation.
Dueling Piano's brings a new form of entertainment to the Scala Lounge stage. Playing identical Baby Grand Pianos, the audience will be dancing, laughing, and singing to their favourite hits. Each show is different and encourages audience members to interact and be part of the fun!
For more information, including overnight accommodations and promotions, visit www.grandvillacasino.com or follow us on Facebook and Twitter.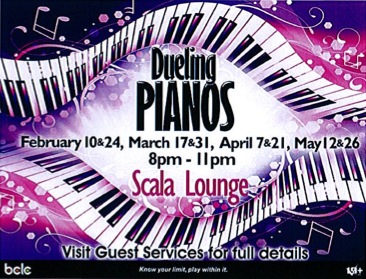 Grand Villa Casino
The Grand Villa Casino has an exciting gaming floor, spread over two levels, and is alive with the energy of over 50 gaming tables and 1000 slot machines. With 100,000 square feet of gaming space, two bars, restaurants and a show lounge, and the 200 room Delta Hotel & Convention Centre combine to make the Grand Villa Casino a preferred destination for an unrivalled entertainment experience.
About the Performers
Mick (Michael Dalla-Vicenza) was born and raised in Sault Ste. Marie, Ontario, Canada. His musical career brought him out west (his father let him drop out of high school to do so) and ultimately had him settle in Vancouver where he presently makes his home. Along with many studio sessions, Mick received a gold album reward for his studio work with Canadian band 'Trooper' as well as an 'album of the year' award from Saskatchewan Canada for a song he contributed and played on in 1997. Mick also contributed vocals for the Motley Crue multi-platinum album, 'A Decade of Decadence'. At this writing, (2010) his voice can currently be heard in the hit movie 'Hot Tub Time Machine' (Motley Crue soundtrack). Aside from making a career in music as a live performer, in the studio and as a solo artist, Mick has been Canadian legend Randy Bachman's bass player/vocalist for the past decade. He also plays guitar and 8 string bass for the reunited Bachman & Turner (formerly Bachman, Turner Overdrive) for their 'Forged in Rock' worldwide tour. The band's current singles, Rollin Along and Slave to the Rhythm are in high rotation across North America and Europe. Mick continues to write, record and produce for many local and international artists alike with his 'Millennia Sound Design' production house…Most recent credits including performing with Bachman & Turner in this years Grey Cup half-time show and playing in New York with Paul Shaffer from Late Night  with David Letterman.
Tom was Musical Director for The Rocky Horror Show. Red Rock Diner, and Cheatin' Hearts (Jessie Nomination) at Arts Club Theatre, Forever Plaid at the Starlight Theatre, and All Grown Up at Richmond Gateway Theatre. Stage credits in Vancouver include the roles of Tommy in Brigadoon and Lt. Cable in South Pacific for Royal City Musical Theatre, Billy in Carousel at Theatre Under the Stars, and Roy in A Closer Walk with Roy Orbison at Richmond Gateway Theatre.
Tom composed or co-wrote all the music featured on the CBC Special The Western Alienation Comedy Hour, numerous tunes on his debut CD The Turning, his original children's album Real Live Music (nominated for a West Coast Music Award), and his songs have been recorded and performed by Charlotte Diamond and Fred Penner. Tom co-wrote with his father Lloyd Arntzen the children's musical Cinderella In King Arthur's Court. Tom has written music for the films Double Lo-Fat Latte, The Touch, The Stories Inside and Searching For Balance.
As a studio musician ,he has played keyboards and sang on sessions produced by Kat Hendrikse and Michael Conway Baker for the Nostalgia Network in the U.S.