The Juno Awards, Canada's music equivalent to the Grammy's, came to town last week and the lead up to the red carpet awards night was nothing short of spectacular. Hotel hospitality suites were filled with rock stars and celebs and just about every club in town got in the act with live bands and more. Music moguls Bruce Allen and Sam Feldman held one of the more exclusive events in town with Juno nominees getting a surprise performance from the Barenaked Ladies and VIP invites including Bryan Adams, Loverboy and Michael Buble – to name a few.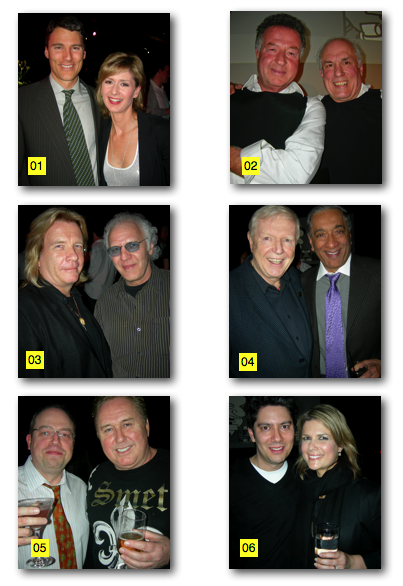 01 – Vancouver mayor Gregor Robertson chats with CTV News anchor Coleen Christie at the Juno opening night reception at the Commodore Ballroom. 
02 – Wearing armoured vests, music super-agents Sam Feldman and Bruce Allen got lots of laughs as they dished out the flak at their Wild West party Friday night.
03 – Bob Rock, left, producer of bands like Aerosmith, Bon Jovi, Metallica and Motley Crue, gives congrats to Loverboy guitarist Paul Dean on their Juno Hall of Fame award.
04 – Rock and Roll Hall of Famer Red Robinson, left, shares the spotlight with Attorney General Wally Oppal at the Feldman/Allen party.
05 – Corner Gas star and comedian Brent Butt, left, celebrates with Loverboy lead singer, and West Van resident, Mike Reno.
06 – Dave Genn, formerly of the Matthew Good Band and currently of the band 54/40, cuddles with wife Tamara Taggart, who is also CTV's pretty weather forecaster.

March 30, 2009 (published April 2, 2009)
Catherine Barr's column appears every Thursday in the North Shore Outlook – 60,000 copies delivered to homes in the North Vancouver and West Vancouver area If you wish to submit an event for coverage please fill in the form found here or email Cat at info@catherinebarr.com.