Junior Achievement of British Columbia (JABC) played host to over 700 prominent Vancouver business leaders last week at the 7th Annual Business Laureates of British Columbia gala dinner and "Business Hall of Fame" induction ceremonies. Held at the Hotel Vancouver, guests were treated to a five-star dinner and an evening of socializing which included a special segment dedicated to young up-and-coming business minds. Welcomed into the Business Hall of Fame this year were Brian Canfield, Chairman of the Board of the Telus Corporation, Dave Ritchie, co-founder and Chairman Emeritus of Ritchie Brothers Auctioneers and the late Milton Wong, Chairman Emeritus of HSBC Global Asset Management. CBC news anchor Tony Parsons played the role of MC and everyone was entertained and inspired by the special keynote address which was delivered by General R.J. Hillier, former Chief of the Defence Staff for the Canadian Forces. The Hon. Kevin Falcon, Minister of Finance and Deputy Premier also announced a surprise $1 million grant. Overall, the event raised over $600,000 for Junior Achievement business education programs in BC. Congrats to all involved.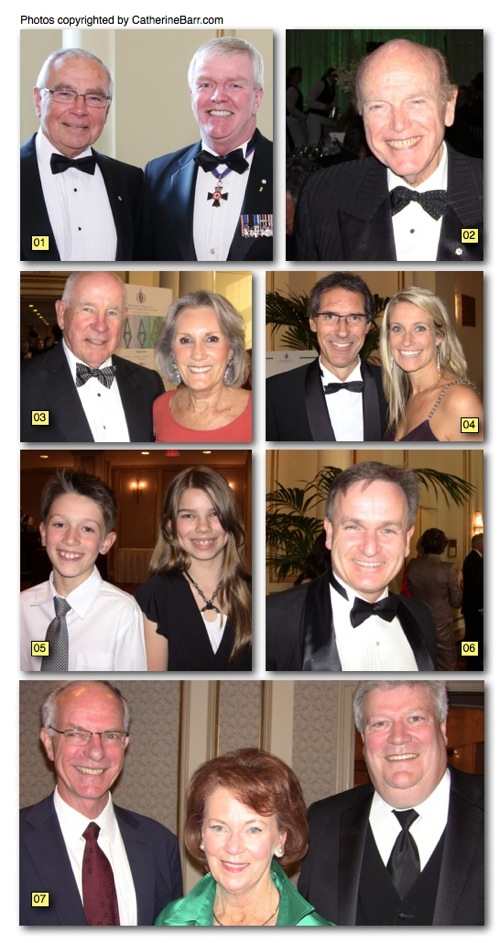 01 – Business Hall of Fame inductee Brian A. Canfield, C.M., O.B.C., D.Tech., Chairman of the Board, TELUS Corporation, joins Canadian hero General Rick Hillier for photos during the pre-dinner reception.
02 – Jimmy Pattison is one of West Vancouver's most famous citizens and one of Canada's richest men, but I'll bet you didn't know that he is also very friendly and debonaire too.
03 – Business Hall of Fame inductee Dave Ritchie, Co-Founder & Chairman Emeritus, Ritchie Bros. Auctioneers, started his empire with the OK Used Furniture Store in Kelowna back in 1955. This night he celebrates with his beautiful wife.
04 – Brainy and beautiful, the stunning Leah Costello, of Bon Mot Book Club fame, makes the trip from West Vancouver with the handsome David Rowntree on her arm.
05 – Part of the special program on youth, North Vancouver students Hunter and Lauren from Dorothy Lynas Elementary school took to the stage to speak to the audience.
06 – North Vancouver MP Andrew Saxton is no stranger to business. Did you know he is a former senior VP with HSBC in Singapore and that his father actually built the Grouse Mountain Skyride?
07 – The distinguished David Black, owner of Outlook newspaper parent company Black Press Group Ltd., left, joins event co-chair Barbara Brink and the Hon. Rich Coleman, Minister of Energy and Mines.
– – –
By Catherine Barr – May 24, 2012
Also as seen in print in the North Shore Outlook Newspaper on June, 2012
– – –

– – –