It's fun fashion that everyone wants. And judging from the launch, and the lineups, the new Joe Fresh store in North Vancouver is well on its way to becoming a popular shop stop for young fashionistas everywhere. Last week the clothier held a VIP opening preview night inviting friends and notables for a special champagne and canapes party at its newest store at Lonsdale and 17th. The event was held in conjunction with the next day official opening of the new property and parent company, Loblaw's City Market, which represents the first of its kind in North Vancouver. Chaaarge it!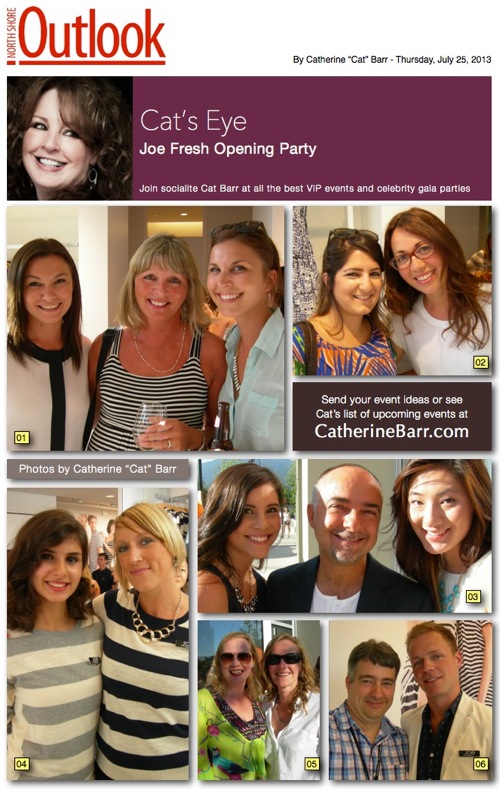 01 – Hey there Gregory girls! Originally from the North Shore, Loblaw's PR coordinator Katie Gregory, left, makes the trip from Toronto to welcome mom Angela and sister Jaimie to the opening night party.
02 – Blogger Samira Hodania, left, chats with PR principal and event specialist Tara Parker Tait outside the fitting rooms.
03 – Joe Fresh senior director Lou Struminikovski welcomes invited guests and friends at the door alongside hostesses Linnea Anderson, left, and Andrea Yeung.
04 – Helping shoppers find the perfect fit are Joe Fresh's Yasaman Khoshnoudian, left, and North Vancouver store manager Martha van Gvozdanovic.
05 – They're always fashionable and fabulous. Bon Vivant's Nessa van Bergen, left, arrives in style with Kirsten Mihailides.
06 – Joe Fresh / Loblaw's IT guy Mike Richard, left, and North America operations manager Jason Frie stand by to ensure everything runs smoothly for the big opening event.
– – –
By Catherine Barr – Oct 26 and 27, 2012
Also as seen in print in the North Shore Outlook Newspaper on Nov 1, 2012
– – –

– – –