Grammy and Academy Award-winning performer Jennifer Hudson delivered a stunning live performance for an audience of invite-only guests last month at the Vancouver Opera's signature gala fundraiser. Entitled "Overture: Aida" the evening included a elegant and delicious dinner event which took place on the stage of the Queen Elizabeth Theatre. Four Seasons chef Ned Bell ensured all the details went perfectly as guests also bid on amazing live and silent auction items, like a trip to the Superbowl in New Orleans which went for a record $250,000. Also last week, the Big Sisters of BC and Lower Mainland were the benefactors of a special "Grapejuice" wine auction and tasting evening at the Ferrari Maserati dealership. Founded by MAC Marketing Solutions and McNeill Nakamoto, the event featured wine, fabulous food and a live performance by Chantal Kreviazuk.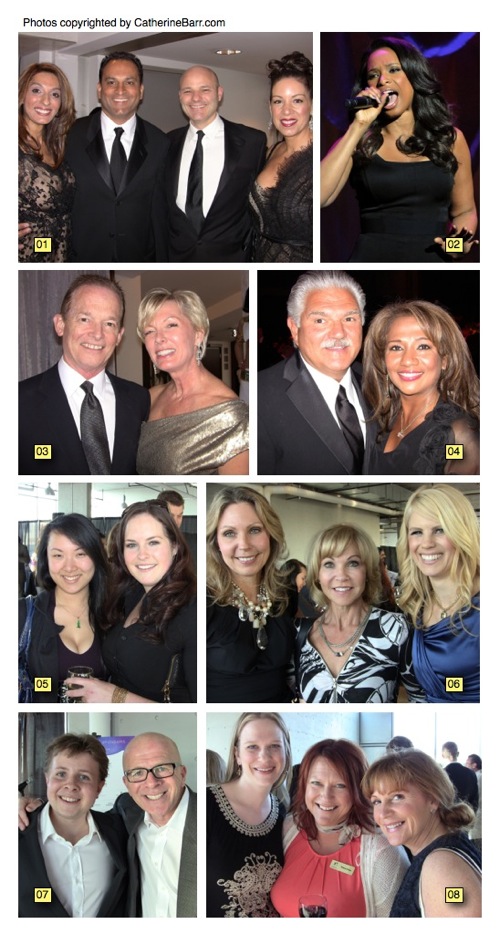 01 – "Overture" gala co-chair Manjy and David Sidoo are joined by Paolo and Clara Aquilini at the pre-dinner Jennifer Hudson reception.
02 – With a powerful performance that included hits like "First Time Ever I Saw Your Face", singer Jennifer Hudson delighted invited guests at the Vancouver Opera "Overture" gala by venturing into the audience to dance, and sing, with people during her Whitney Houston tribute finale.
03 – Dressed in shimmering opera gold, beautiful Rebecca Mackay and husband John, of the Pacific Cascade Group are well known for their philanthropy throughout Vancouver.
04 – AllWest Insurance owners Paul and Devina Zalesky make the trip from West Vancouver to see Jennifer Hudson perform at the invite-only Vancouver Opera Aida gala night.
05 – Lonsdale Event Rentals' Jenney Luong, left, and Kristin Leahy, are happy to be sponsors of the Big Sisters wine auction event.
06 – West Vancouver's Jan Ballard, left, Laurie Case and "Grapejuice" organizer Sarah McNeill pose for pics inside the lavish Ferrari dealership.
07 – West Vancouver's Michael Hasman is now working with dad Malcolm at his real estate business on the North Shore. This night they are out in support of Big Sister of BC.
08 – Big Sisters' need these gals so much. Big thanks to staffers Lisa Cloutier, left, Treena Innes and supporter Jacqueline Poissant for their help this night.
– – –
By Catherine Barr – May 5, 2012
Also as seen in print in the North Shore Outlook Newspaper on May 10, 2012
– – –

– – –