Live jazz, celebrity blackjack, martini and whiskey tastings and fabulous food. It was a celebration to remember this past weekend as the Adoptive Families Association of BC held their gala fundraiser in the history Stanley Park Pavilion. Fabulous auction items helped raise even more money, the most popular of which was a custom Fire in the Kitchen package cooked and served by some of the city's most handsome firefighters.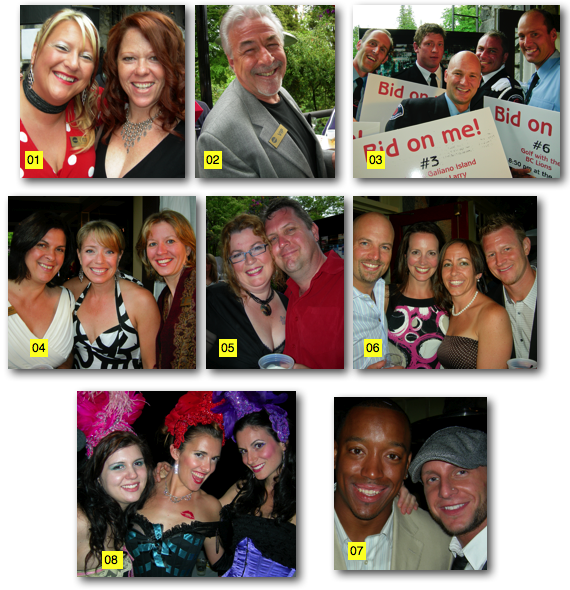 01 – BC Adoptive Families' Treena Innes, left, welcomes celebrity blackjack player and Jack FM radio's Pam Stevens.
02 – Blues man Jim Byrnes' name is synonymous with live music. Acting as jazz judge this night, he takes in the scene.
03 – Armed with pots and pans and a hot and spicy menu, the Vancouver Firefighters help raise money for this very worthwhile cause.
04 – Adoptive Families' executive director Karen Madeiros, left, and board member Vivian Krause, right, are thrilled to have Global TV anchor Randene Neill as co-host for the evening.
05 – North Van's Marie and Kevin Middleton were among the VIPs. Kevin also donated services from his mobile audio and lighting company to make things sound great.
06 – Making the trip from the North Shore to enjoy the jazz are Andrew and Lianne Britnell, left, and Laurie and Lane Oseen.
07 – BC Lions Geroy Simon, left, and Kid Carson of The Beat pose with guests as part of the celebrity blackjack event.
08 – The girls of the Sweet Soul Burlesque troupe help make the night that much more glamorous with their feathers and frills.
May 30, 2009 (published June 4, 2009)
Catherine Barr's column appears every Thursday in the North Shore Outlook – 60,000 copies delivered to homes in the North Vancouver and West Vancouver area If you wish to submit an event for coverage please fill in the form found here or email Cat at info@catherinebarr.com.