Late Night funny man Jay Leno was the headliner last week at Brian Jessel's 5th Annual Cabriolet Charity Gala. The $500 VIP ticket event was held at the dealership which was transformed into a glittering lounge complete with live music and fabulous food and beverage provided by some of Vancouver's finest restaurants. Proceeds from the night go to support the Canucks Autism Network, ArtsUmbrella and the VGH and UBC Hospital Foundation. Live and silent auction items galore helped raise funds, but no more so than the grand finale item – four tickets to the Tonight Show and a private tour of Jay's own personal car collection.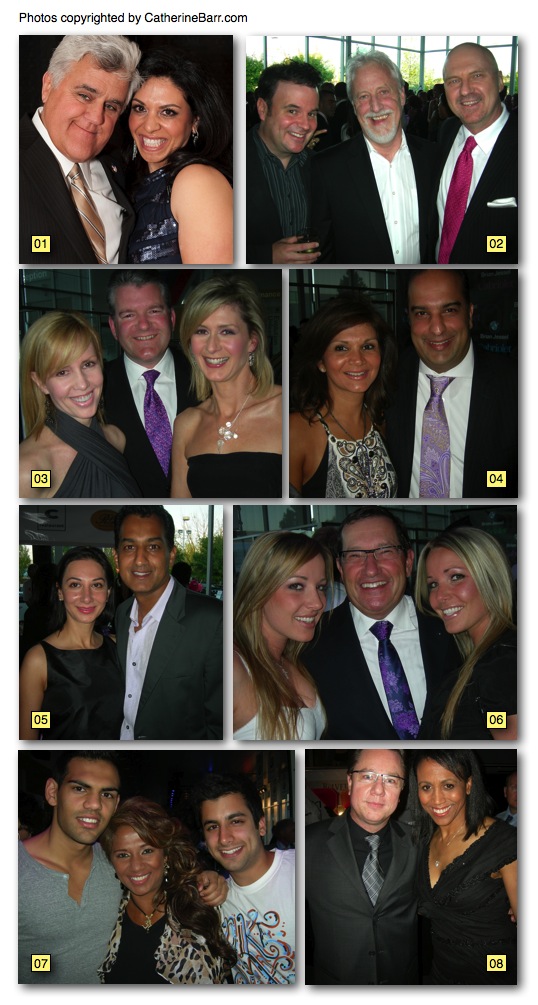 01 – Jay Leno has still got it! Seen here with gala co-chair and pr gal Rhoda Rizkalla, the late night talk show host has the audience in stitches with jokes about Obama, US Politics and life in general.
02 – Travel Guys' host Darren Parkman, left, joins Monk McQueens / Lift restaurateur Bob Lindsay and North Van's CTV weatherman Marke Driesschen.
03 – North Vancouver's Jill Kileen, left, cuddles up to hubby Mike Killeen and his CTV news anchor co-host Coleen Christie, both of whom would lead the crowd in a rousing round of "Heads-or-Tails" for charity.
04 – Looking elegant as always, West Vancouver's Monica and Karim Virani join the VIP reception before the show.
05 – Sporting a new short chic hairdo, West Vancouver's Sofia Somani and hubby Amin come out to support this great cause.
06 – Main man Brian Jessel has good reason to smile. Seen here with diamond twins Courtney and Kim Helman, this beaming "Bimmer" dealer has raised thousands for charity.
07 – West Vancouver's stunning Devina Zalesky poses with son Stefan, left, and friend Omar Popat. Allwest Insurance is one of the evening's major sponsors.
08 – West Vancouver Olympian Charmain Crooks, seen here with husband Anders, is finally finding some time to relax after helping head up the recent 2010 Winter Olympics.
—
By Catherine Barr – May 8, 2010
Publishing in print in the North Shore Outlook newspaper on May 13, 2010