International Women's Day made headlines this week all around the world as the global community stood up to celebrate the achievements of lovely ladies everywhere. Here in this city, Women United in Philanthropy (benefitting the United Way and Success by Six) managed to raise about $40,000 for their programs by holding an elegant fashion show luncheon event in honour of the occasion at Leones in Vancouver. Also this week, West Vancouver busineswoman and political dynamo Leah Costello had barely finished hanging the art on the walls of her new home as she held an exclusive welcome reception for MP John Weston and visiting Immigration Minister Jason Kenney. Patrons of the arts were also given a treat this month at a special Vancouver Symphony Orchestra night as Maestro Bramwell Tovey presented Telus head honcho Darren Entwistle with a special signed photograph thanking the corp for their more than 60 years of support. And lastly, it was a salute to the seven seas as world-famous yacht designer Ron Holland was recognized at a private reception in False Creek as he opened his first ever North American office here in Vancouver.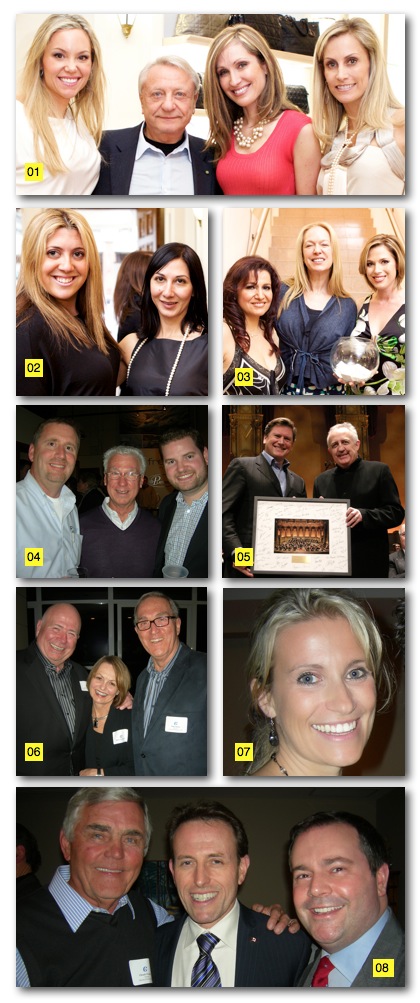 01 – Women United in Philanthropy co-founder Christie King, left, cuddles up to West Vancouver supporters Alberto Leone (owner of Leones), Carey Smith, Janelle Washington.
02 – Socialite Kasondra Cohen, left, celebrates International Women's Day with West Vancouver's Sofia Somani at Leone fashion show.
03 – Looking divine in Dolce, Women United in Philanthropy co-founder Saeedeh Salem, left, joins committee member Carmen Ruiz y Laza, and Breakfast Television host Dawn Chubai before the show.
04 – Freedom Marine's David Campbell, left, and Platinum Marine's Tim Charles welcome famed yacht designer Ron Holland to North American soil as he sets up shop here in Coal Harbour.
05 – A special concert night saw Darren Entwistle, left, and Telus recognized by Maetro Bramwell Tovey and the Vancouver Symphony Orchestra for over 60 years of support. Congrats!
06 – Community supporters Jess and Ramona Ketcham, left, join businessman Peter Kains, of Kains & Strongman, at a special reception for MP John Weston.
07 – Talk about the hostess with the mostess! Event veteran Leah Costello doesn't let moving house stop her from holding a fabulous same-day reception for MP John Weston. Well done.
08 – West Van businessman Chuck Walker, left, of Walker Group, chats with West Vancouver / Sunshine Coast MP John Weston and Jason Kenney, minister of citizenship, immigration and multiculturalism.
– –
By Catherine Barr – March 11, 2011
Also as seen in print in the North Shore Outlook Newspaper on Mar 17, 2011