Fords, Chevys, Model-Ts and more lined the streets of Park Royal Village in West Vancouver this past weekend as Hot Rod Saturday got everyone's motor running. Presented in part by the BC Hot Rod Association and the North Shore Outlook, the day was a car lovers dream come true. Fuzzy dice and fancy paint jobs were the norm as the parking lot was transformed into a rainbow of colours and chrome and proud owners posed with their pride and joys of yesteryear.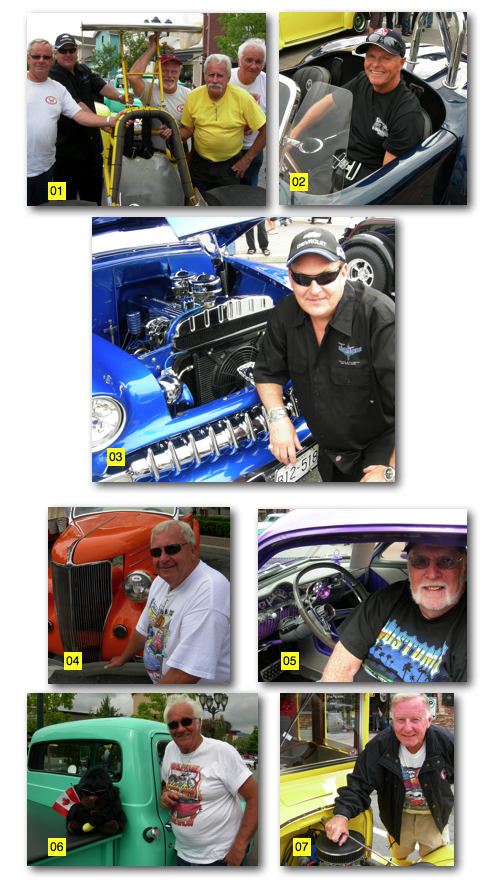 01 – The Hikida Stephens race team, featuring owners/drivers Bob Stephens and Tom Whiffin, draw a big crowd with their 2,000 hp, 1966 dragster.
02 – West Vancouver's Ron Price is looking nice in his always stylish 1966 Shelby Cobra in classic navy blue.
03 – This blue beauty is the belle of the ball – a 1954 Chevy Bel Air two door hardtop owned by the North Shore's own Graeme Tait.
04 – Henry Tjart's orange 1936 Ford Roadster is one of only 3,000 ever made and comes equipped with rumble seat – wink wink.
05 – The purple and white interior of Barry Watson's beautiful 1950 Mercury coupe comes complete with plastic dice shifters and looks a little like a naughty night in Vegas.
06 – Pete Graw's mint green 1956 Ford F150 truck is a true original which he named "Last Date". He, his wife and their Gorilla mascot travel the continent to take part in shows like this.
07 – West Vancouver's Denny Bromley is a proud 1923 Ford Model-T coupe owner. The car still has its old fashioned headlights that used to burn lamp oil and its wooden frame trunk.
By Catherine Barr
August 15, 2009 – published in the North Shore Outlook on August 20, 2009