They say all that glitters is not gold, but when it comes to the Heart and Stroke Foundation, that simply isn't true. Last week, at the stunning West Vancouver waterfront home of Goldcorp CEO Ian Telfer, invited guests raised a glass to one of this year's most important, and most glittery, upcoming fundraising events. Committee members from the Heart of Gold gala were on hand for a pre-gala toast to emphasize the importance of "Sudden Cardiac Arrest" and remind everyone that every second counts in the event of a heart attack. The Heart and Stroke Foundation's 8th annual Heart of Gold Gala will be held June 1, 2012 and, good news, it is already sold out. Also last week, West Vancouver Mulgrave student Adam Chandani was out with his student committee fundraising for a good cause. The group held a silent auction evening event at the school which raised money for the World Partnership Walk and the Aga Khan Foundation Canada (AKFC). One hundred percent of the money raised here goes towards improving the lives of people living in the third world. Congrats to all involved.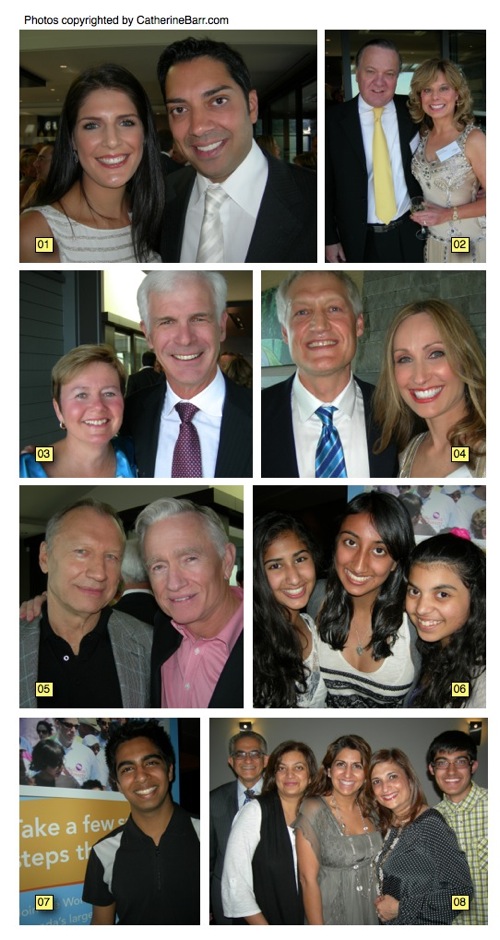 01 – The always generous Natalie and Amar Doman, of Futura Corp. fame, are on hand to toast the success of the upcoming Heart of Gold Gala.
02 – Looking gorgeous in a silky beige beaded gown, Heart of Gold Gala committee member Cindi George and husband Mark get gala ready.
03 – Heart of Gold Gala honourary chair Bob Gallagher, seen here with wife Christy, is president and CEO of New Gold corporation and was instrumental in getting the mining community involved in this year's Heart and Stroke gala.
04 – Heart and Stroke Foundation BC & Yukon CEO Diego Marchese and gala chair Carey Smith are both speakers this night at the pre-gala reception.
05 – Haywood Capital's Eric Savics, left, joins Goldcorp CEO Ian Telfer at his home to salute the upcoming Heart of Gold gala.
06 – Mulgrave students Anniqa Karmali, left, Jasmine Somani and Soraiya Lalani get auction items ready for the World Partnership Walk school fundraiser.
07 – Three cheers for Adam Chandani for organizing the silent auction fundraiser at Mulgrave on behalf of the World Partnership Walk and AKFC.
08 – Helping support the Mulgrave students and their World Partnership Walk auction night are Zack Bhatia, left, Salima Lalani, Shala Chandani, Navin Bhatia and Nahim Bhatia.
– – –
By Catherine Barr – May 15, 2012
Also as seen in print in the North Shore Outlook Newspaper on May 24, 2012
– – –

– – –