The Heart of Gold Gala, held in support of the Heart and Stroke Foundation – BC and Yukon chapter, will hold its 10th Anniversary fundraising event later next month. In preparation for the big night, a private VIP reception for donors, committee members and guests was held yesterday at the super chic downtown home of Janelle and Kyle Washington. The stunning views and sunlit patios were the perfect backdrop for the invite-only reception which included canapes, cocktails and speeches. Sadly, heart and stroke still takes the life of one Canadian every seven minutes and more than 1.6 million individuals are living with the effects of heart disease. More information on how to get involved and/or how to donate can be found at www.heartandstroke.bc.ca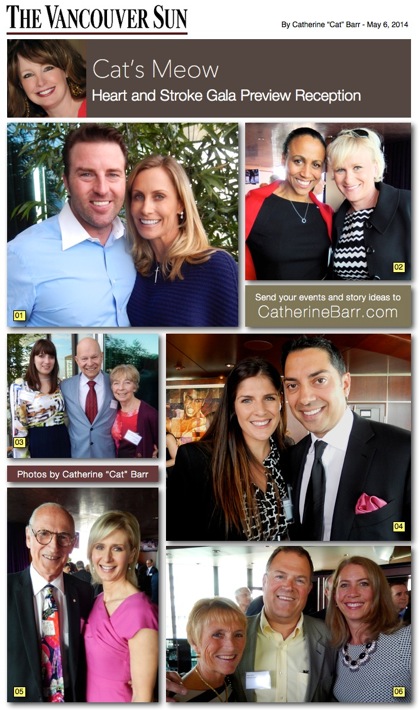 – – –
01 – Kyle and Janelle Washington graciously open up their home to host the VIP reception.
02 – Olympian Charmaine Crooks, left, is this year's gala chair. Here she is seen with friend Christina Tanti.
03 – Committing to a generous six figure donation, Bob and Diane Conconi, attend the event with administrative assistant Sanja Simic, left.
04 – Natalie and Amar Doman are known for their kindness and philanthropy.
05 – Dr. Douglas Clement chats with CTV news anchor Coleen Christie.
06 – Honourary chairs Jane and Peter Scott with past committee member Willa MacDougall.
– – –
By Catherine Barr – May 7, 2014
Also as seen in the Vancouver Sun Newspaper
– – –
By Catherine Barr




www.CatherineBarr.com  |  www.WestVancouver.com  |  www.NorthVancouver.com
– – –