The Heart and Stroke Foundation's Golden Heart gala dinner was held at the Fairmont Hotel Vancouver last week. A black tie affair, the night featured live and silent auction items, entertainment and a five-star dinner all served in the hotel's lavishly decorate ballroom.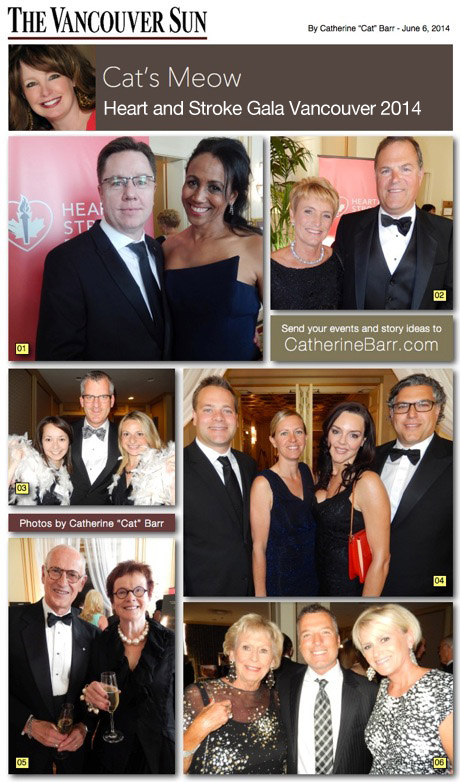 – – –
01 – Gala chair and Olympian Charmaine Crooks and husband Anders welcome guests to the reception.
02 – Honourary chairs Jane and Peter Scott.
03 – Stéphane Mouttet, of the Shangri-La Hotel, poses with volunteers Tracy Lee, left, and Hannah Dohl.
04 – Rick and Bonnie Hatswell, of Craftsman Collision, left, attend the event with Gillian Dixon-Boxer and Morris Ergas.
05 – They're heart champions all the way. Athletes and authors Dr. Douglas Clement and wife Diane know what it takes to live a healthy life.
06 – Mom Joan, left and wife Christina are happy to accompany former Canucks hockey star Tony Tanti to the big event.
– – –
By Catherine Barr – June 6, 2014
Also as seen in the Vancouver Sun Newspaper
– – –
By Catherine Barr




www.CatherineBarr.com  |  www.WestVancouver.com  |  www.NorthVancouver.com
– – –