It's always a golden occasion at The Heart and Stroke Foundation gala. Entitled the "Heart of Gold", this ninth annual fundraising event is always a reminder that heart disease is still a number one killer and that early detection and a healthy lifestyle are what we all need to practice to survive. A special pre-gala reception was held this month at the palatial West Vancouver waterfront home of Goldcorp's Ian Telfer. As presenting sponsor, Goldcorp has been instrumental in bringing The Heart and Stroke Foundation's message to the forefront. Invited guests also enjoyed a talk by Dr. Max Cynadar, brain specialist, on the affects of stroke, the brain and the body. The Heart of Gold gala takes place this weekend.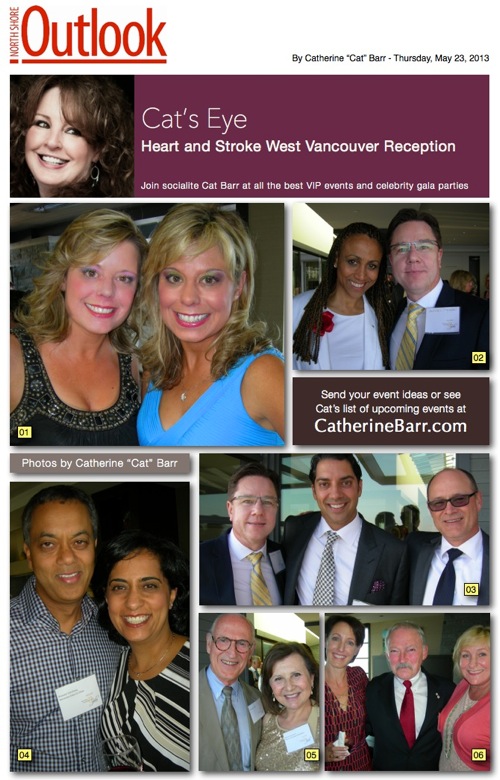 01 – West Vancouver's best blonde sisters, Lori Shea, left, and Cindi George look extra glamorous for the pre-gala reception.
02 – As a former Olympian, Charmaine Crooks, seen here with husband Anders Thorsen, knows the importance of a healthy heart and body.
03 – Offering their support to this very worthwhile cause, businessmen Anders Thorsen, left, Amar Doman and Marc Seguin enjoy a conversation on the patio.
04 – Honorary chairs Praveen & Anuja Varshney know firsthand about survive heart disease and stroke. Look for them at this weekend's gala fundraiser.
05 – Dr. Doug Clement, who is also a former athlete and Olympian, cuddles up to foundation vice-president Aderita Guerreiro.
06 – Auction chair Darien Adley, left, Dr. Max Cynadar and gala chair Nancey Nanji are now getting ready for the big occasion this weekend.
– – –
By Catherine Barr – May 7, 2013
Also as seen in print in the North Shore Outlook Newspaper on May 23, 2013

– – –