Eating right, giving back and starting anew doesn't seem like it could be that much fun – but last week, it was! Three great events full of charity and giving helped start Spring off on the right note. First up, it was the BC Chefs' Association's Healthy Chef Competition at the Hyatt. Next, it was a Spring fashion show at Leones hosted by United Way's Women United in Philanthropy. And finally, it was Persian New Year at the Marriot where the Canadian Iranian Foundation held a glamorous celebration.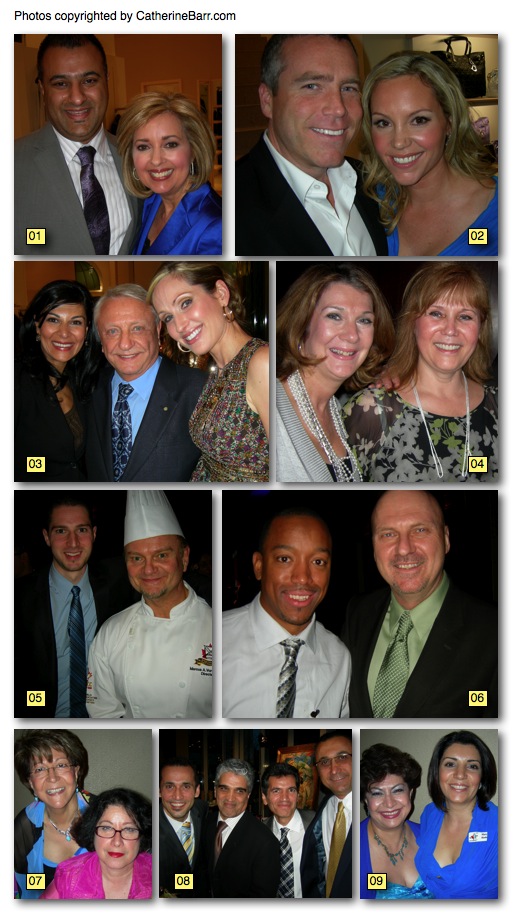 01 – Faizzal Fatehali, of the United Way, poses with West Vancouver's Pamela Martin (CTV news anchor and Women United in Philanthropy member) at Leones.
02 – Women United in Philanthropy member Christie King and husband James welcome guests to the Leone fashion show fundraiser.
03 – This West Vancouver trio knows all about fashion. From left: Wear Else president/owner Zahra Mamdani, Leone president and owner Alberto Leone, and guest Carey Smith.
04 – Eating right at the Healthy Chefs Competition are North Vancouver's Amanda Tanner, left, and BC Produce Marketing Association's Margie Schurko.
05 – Von Albrecht and Associates Leo Savino, left, and BC Chefs Association director and host Marcus Von Albrecht help put on a wonderful gala evening in support of great healthy food.
06 – BC Lions' famous footballer Geroy Simon, left, teams up with North Vancouver celeb/comedian and CTV weatherman Marke Driesschen.
07 – Canadian Iranian Foundation committee members Nassreen Filsoof, left, and Massoume Price deserve praise for helping arrange such a glamorous Norouz night.
08 – Posing by the beautiful, traditional Haft Seen table at Norouz are foundation board directors Babak Shahbazi, left, Abbas Esmailie, Ali Hashemi and Bahram Saadatmandi.
09 – Looking beautiful in blue for the new year Norouz gala are Mahshid Seifi, left, and Maryam Hashemi.
– –
By Catherine Barr – March 17, 18 and 21, 2010
Published in print by the North Shore Outlook newspaper on March 25, 2010