Hollywood celebrities, sports stars and some of Vancouver's most beautiful people were all putting the pedal to the metal last weekend as the Variety for Kids rally hit the streets of town. Headed up by honourary co-chairs Kyle & Janelle Washington, the two-day adventure saw each team/car raise $25,000+ each to support the kids. Then, it was time to draft your celebrity driver and head out on the highway. Think "Amazing Race" meets scavenger hunt. The big kick-off party was held at the new Coal Harbour Cactus Club where everyone parked their luxury cars and then walked the red carpet for the cameras. Inside, it was nothing but good fun as celebs met their teams, posed for pics and enjoyed amazing food and drinks courtesy celebrity chef Rob Feenie and his crew.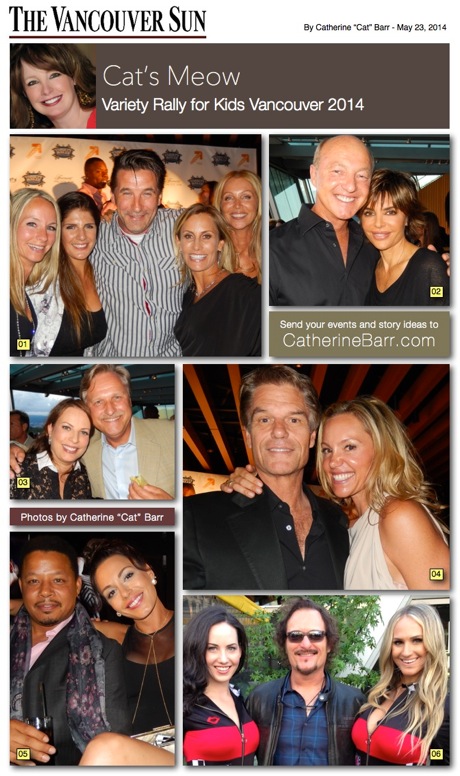 – – –
01 – Actor Billy Baldwin has good reason to smile as he is drafted by the beautiful ladies of team "In It to Win It" which included members Natalie Doman, Janelle Washington and Heidi Coglon.
02 – Businessman Harald Ludwig, also of Lionsgate entertainment, chats with actress Lisa Rinna of "Days of our Lives" fame. You can see her next in ABC's "Sing Your Face Off" where she will impersonate both Britney Spears and Dolly Parton. Fun!
03 – Helping raise money for the kids and supporting this very worthwhile cause are Cindy Beedie and Richard Coglon.
04 – Known for "LA Law", and most recently "Mad Men", actor Harry Hamlin poses with Variety Rally guest Christie King.
05 – Oscar nominated actor Terrence Howard, of "Ironman" and "Crash" movie fame, sits with model/personality Rachelle Leah as they wait to meet their team members.
06 – Start your engines! Saskatchewan born actor Kim Coates, of "Sons of Anarchy" fame, gets revved up on the red carpet with the Variety Rally Car Girls.
– – –
By Catherine Barr – May 23, 2014
Also as seen in the Vancouver Sun Newspaper
– – –
By Catherine Barr




www.CatherineBarr.com  |  www.WestVancouver.com  |  www.NorthVancouver.com
– – –