Are you ready to rock? That's the question they asked as they swung open the doors to one of the newest and hippest entertainment facilities in town. The new Hard Rock Casino Vancouver, formerly known as the Boulevard Casino and Red Robinson Theatre, has been given a major facelift. There's new bars, restaurants, gaming areas and more. The trip alone is worth it just to see the impressive collection of music and movie memorabilia which decorate the walls everywhere. At the opening night gala party, invited guests and VIPs walked the red carpet as a guitar player cranked out riffs suspended from the ceiling. As a long lined formed outside, guests were entertained with a guitar flash mob, fireworks and then two opening night concerts featuring Hedley and 54-40. Lots of North Shore faces and VIPs made the trip to help celebrate.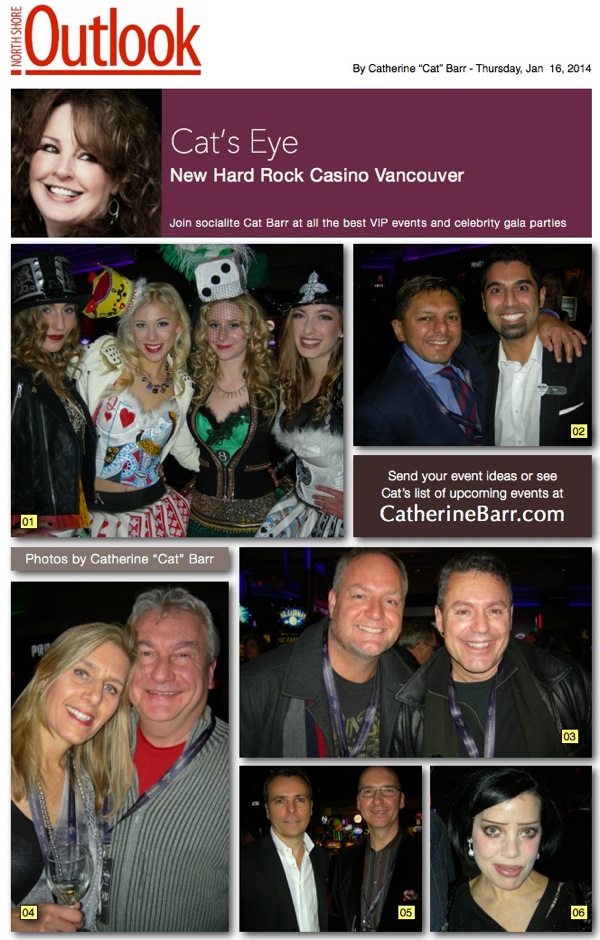 – – –
01 – Casino showgirls, dressed as Slots, Blackjack, Craps and Poker game glam, help add to the fun and festivities.
02 – Aussie Jiwani, Molson sponsor rep, and Raj Mutti, executive director Hard Rock Casino Vancouver are among the VIPs in attendance at opening night.
03 – Fellow Glacier Media man Tom Zillich, left, and JRFM radio exec Steven Young check out the new Asylum bar where Tom's band, Jane's Blonde, also rocked out this past weekend.
04 – West Vancouver's Ron and Val Orr, of Granville Entertainment, enjoy a tour of the new facilities.
05 – Helping open the doors to all the new excitement are Rod Baker, president and CEO, Great Canadian Gaming Corporation and Peter Goudron, senior vice president, operations-west, Great Canadian Gaming Corporation.
06 – Vancouver rock idol Biff Naked chats with all her fans before proceeding outside to smash up an electric guitar at the opening ceremonies, much to the delight of the large crowd waiting.
– – –
By Catherine Barr – Dec 20, 2013
Also as seen in print in the North Shore Outlook Newspaper on Jan 16, 2014
– – –

– – –