Pretty princesses, superheroes, witches and more were out on the prowl last weekend at North Vancouver's Lonsdale Quay Market. This special holiday Halloween afternoon, designed with the kids in mind, was a great way to celebrate the season's scariest day in a safe and fun atmosphere. In Kid's Alley there was lots of activities including pumpkin decorating, spooky story-telling, face-painting and a costume contest with prizes. Meanwhile, down below in the market, kids could go trick-or-treating to all the merchants for goodies galore.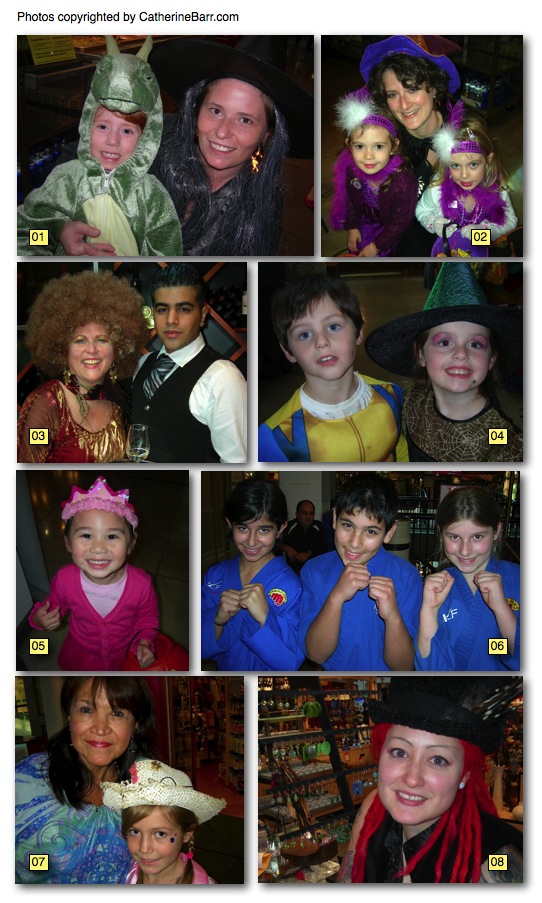 01 – Taylor Pare is a perfect plush dinosaur as he and mom Cara make their market rounds.
02 – Sarah McCurdy and her daughters Olivia, left, and Isabelle are pretty in party purple.
03 – Artisan Wine Shop employees Heather Guthrie-Sheane and Farhad Tourang get in on the act with their Flame Goddess and Wine Sommelier costumes.
04 – North Vancouver twins Kyle and Priya Carter get lots of goodies dressed as superhero Wolverine and a magical sparkling witch.
05 – With a pink sparkle crown, and a smile that never ends, little two year-old princess Katelyn Yip is also queen of our hearts.
06 – Taking part in the Champions martial arts demonstration are Aava Mehrvarzan, left, Danyel Mohsenipour and Maya Goodison.
07 – Eight year-old Donna Eckert makes her way through Kid's Alley with grandma Janice in tow.
08 – Greeting trick-or-treaters at the Collecive Stone jewellery store is assistant Vanessa Greenidge.
– –
By Catherine Barr – Oct 31, 2010
Also seen in print in the North Shore Outlook newspaper on Nov 4, 2010