It was time to show your spirit and your team colours this past weekend as the 99th Grey Cup came to town. Orange and black were the popular choice as hometown fans cheered their own BC Lions all the way to victory in the finals against the Winnipeg Blue Bombers. But the big game was just a part of the weekend-long Grey Cup celebration that took place primarily at the Vancouver Convention Centre. With each CFL Team setting up their own "house" and live bands and street parties taking place nearby, the city was alive with electricity everywhere you looked. One of the biggest galas of the event was the Scotiabank Show Your Colours gala where, despite the $350 ticket price, everyone dressed in their team jerseys in anticipation of Sunday's big game. VIP guests included Premier Christy Clark, Prime Minister Stephen Harper and other dignitaries who were all treated to a five-star meal, marching bands, cheerleaders, live music and comedy impersonators.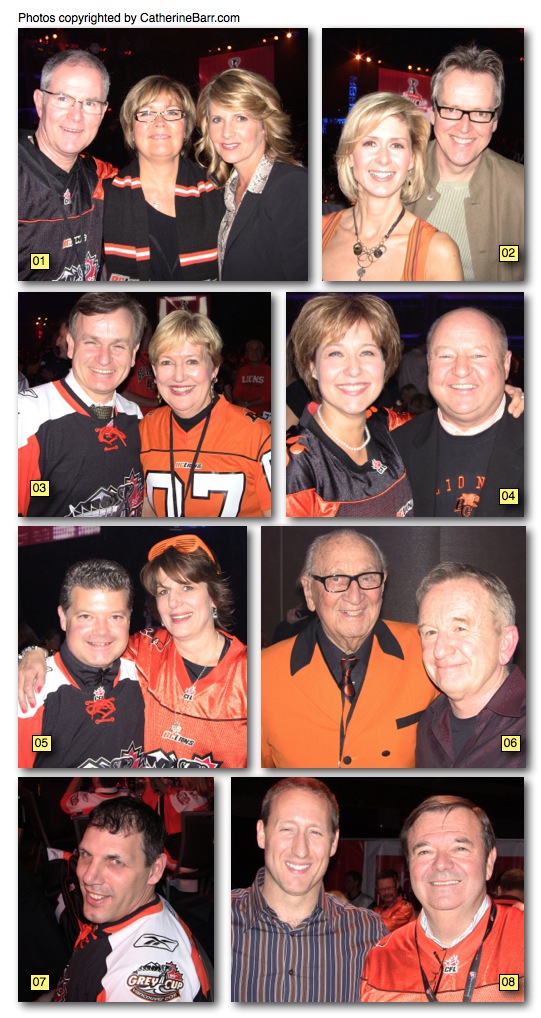 01 – North Vancouver's Brett and Brenda Manlove chat with GlobalBC TV news reporter and gala MC Jill Krop.
02 – CTV news anchor Coleen Christie, seen here with media columnist Steve Burgess, get ready to cheer for the home team.
03 – North Vancouver MP Andrew Saxton and Vancouver mayoral candidate Suzanne Anton both wear their Grey Cup jerseys for good luck.
04 – Premier Christy Clark adds easy elegance to her Grey Cup jersey with a simple strand of pearls while BC Lions President and CEO Dennis Skulsky prefers a dinner jacket overtop.
05 – Following in the footsteps of his late father Bob Ackles, BC Lions GM Scott Ackles and wife Theresa are proud to be back wearing the orange and black colours.
06 – Band leader Dal Richards, left, and famous comedian Ron James are two legendary entertainers who don't agree on everything. Dal is cheering for the BC Lions while Ron claims to be a Winnipeg fan.
07 – A bruiser on the ice, but a pussycat in real life, former Vancouver Canucks enforcer Gino Odjick knows which side to cheer for.
08 – The Honourable Peter MacKay, Canadian Minister of National Defence, left, and David Poole, Scotiabank senior vice-president BC & Yukon region, are among the VIPs enjoying a night of spectacular food, fun and entertainment.
– – –
By Catherine Barr – Nov 26, 2011
Also as seen in print in the North Shore Outlook Newspaper on Dec 1, 2011
– – –

– – –