It's a story of local boy does good – real good in fact when you consider that 10 years ago Chris O'Donohue started out with not much more than a wheelbarrow and a dream. Last week, the gang at The Great Canadian Landscaping Company broke out the bubbly and the beer in a somewhat bittersweet end-of-summer celebration that wasn't just designed to toast the triumphs of their business longevity, but also to remember a fallen family member. In memory of his late mother-in-law, North Van realtor Shirley Clarke, owner Chris O'Donohue teamed up with the ALS Society of BC to start up an annual donation program in her name. Congrats to all involved.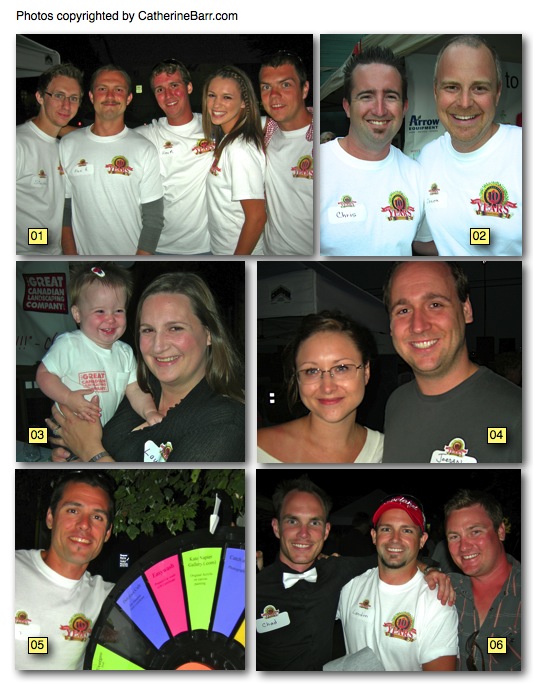 – –
01 – Without these "branch" managers, there simply wouldn't be a team behind Great Canadian Landscaping – three cheers for the gang who loves to dig in and get dirty. From left: staff members Steve, Alex H, Alex M, Allie and Ben.
02 – Leading the crew with a toast or two are Great Canadian Landscapers owner Chris O'Donohue and marketing man Jason Black.
03 – Laura Clarke, daughter to late realtor Shirley Clarke, has already got herself a landscaper in training in nine month-old daughter Emerson.
04 – Lisa Hercus, of the ALS Society of BC, is happy to attend and receive the donations made by both the company and by "Team Clarke" realtor rep Jordan Clarke.
05 – We'll buy an "Eh" please – Great Canadian's Colin Rawlinson is in charge of spinning the "Wheel of Fortune" for some fabulous door prizes.
06 – Bartender Chad Cousins, left, keeps the party going with long-time Great Canadian employee Landon Giesbrecht and Neighbourhood Construction's Jeff Kindrat.
– –
By Catherine Barr – August 18, 2010
Also published in print in the North Shore Outlook Newspaper on Sep 2, 2010