They're the dream cars everyone wants, but few can afford. The opening of Vancouver's new Ferrari Maserati store on Burrard was spectacular beyond belief. Nearly 600 people came to the party which featured three floors of car displays with a $600,000 Fazioli Piano lounge on the first floor and a nightclub type atmosphere on the top level complete with live jazz band, sketch artists, martini bar and food galore. Lobster grilled cheese, a Glowbal catering specialty, plus sushi, oysters and risotto ensured guests were duly pampered as they helped celebrate this luxurious night on the town.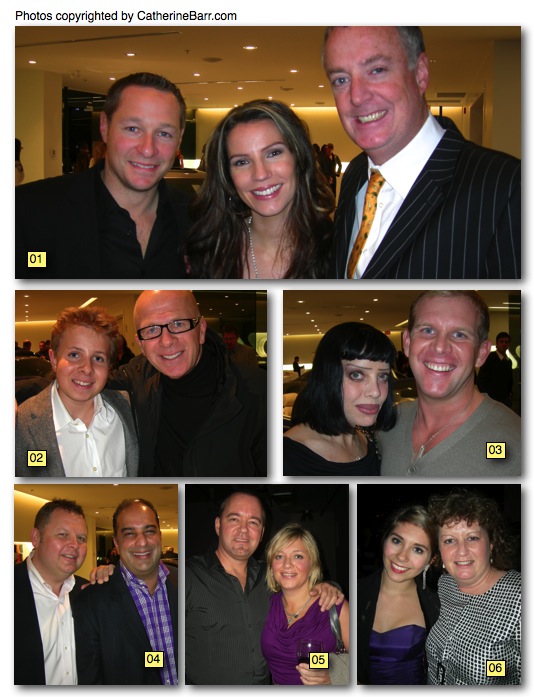 – –
01 – North Shore Outlook Publisher/Advertising Manager Aaron Van Pykstra, left, and wife Odessa chat with Vancouver event producer Craig Stowe who is already planning to bring a second supercars show to Vancouver late next summer.
02 – One of West Vancouver's top realtors, Malcolm Hasaman, gets to spend some guy time with son Michael as they stroll through the Maserati cars on the second level.
03 – Breast cancer survivor and international rock star Bif (Beth) Naked and hubby Ian Walker are among the VIPs at the event.
04 – Glowbal Restaurants' GM Jack Lamont, left, takes time to joke with West Vancouver realtor Karim Virani who just also happens to drive a spectacular red Ferrari. I'm still waiting for a ride – hint!
05 – He wants the black one, she wants the red. North Vancouver's Peter Ruzyski and Sandy Salmon enjoy risotto and cocktails on the third floor while surrounded by pristine Maserati sports cars.
06 – North Shore PR dynamo Laurie Cooper and her beautiful daughter Julie are a big part of the glam and elegance behind this evening's gala affair.
By Catherine Barr
As seen in print in the North Shore Outlook newspaper on Dec 2, 2010