Gotham Steakhouse is a well known celebrity hotspot in Vancouver. With big wines, a glamourous cocktail lounge and famous faces – it is a see-and-be-seen kind of place that has held some legendary parties and charity events over the years. Celebrating its 15th anniversary last week, owner Neil Aisenstat invited friends and VIP guests to help mark the milestone. Cheers and congrats!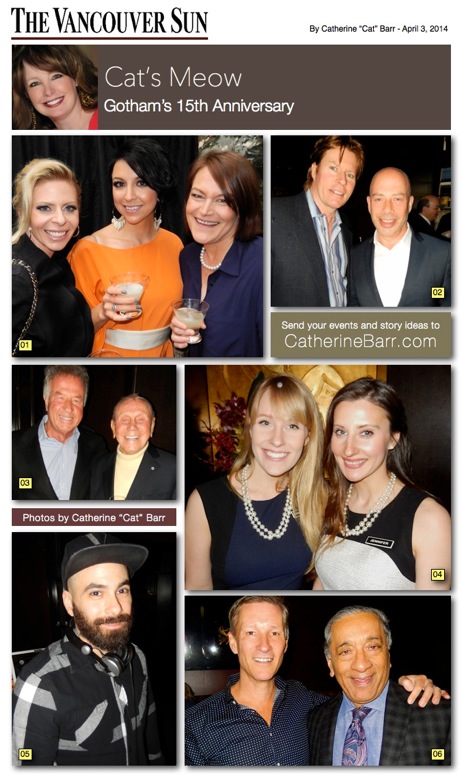 – – –
01 – Lovely ladies are alway part of the mix. From left: Shannon Marler, makeup artist Bree-Anna Lehto and Gillian Andrews.
02 – Turner Media Canada's Craig Turner, left, chats with owner Neil Aisenstat.
03 – Music mogul and talent agent Sam Feldman, the name behind music legends like Anne Murray and Loverboy, poses with philanthropist Mel Zajac.
04 – Welcoming guests and VIPs to Gotham are Ashleigh Danielsen, left, and Jenn Goulding.
05 – Cranking up the tunes for invited guests is DJ Flipout.
06 – Painted Rock Estate Winery owner John Skinner, left, and lawyer/judge/politician Wally Oppal are among the VIPs.
– – –
By Catherine Barr – April 2014
Also as seen in the Vancouver Sun Newspaper
– – –
By Catherine Barr




www.CatherineBarr.com  |  www.WestVancouver.com  |  www.NorthVancouver.com
– – –