There was glitter everywhere. But then again, that's the point behind the Global Glitterati party night at Bar None. Last week the Yaletown hot spot was decorated with mirror balls hanging from the ceiling and unicorns standing guard at the door. There was even a throne fit for the queen of the party – birthday girl and celebrity stylish Crystal Carson. As a driving force behind the Global Glitterati company, she has helped style and fashion some of this city's best known personalities. Local celebs were also on hand to party as the club was turned into a pseudo-themed Studio 54 champagne popping eye-candy extravaganza.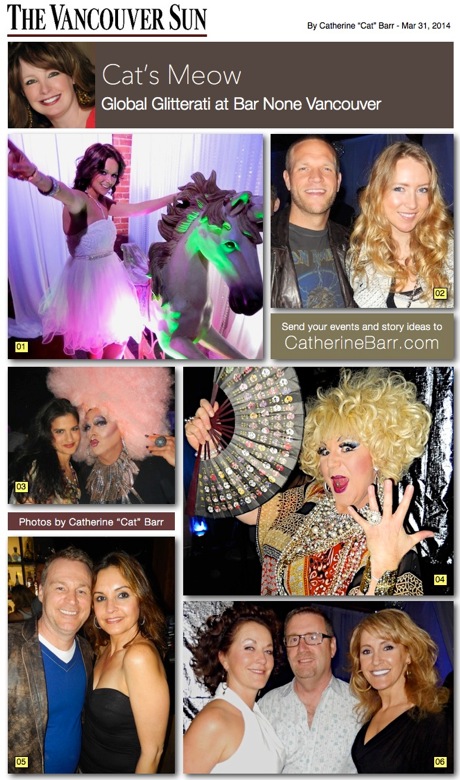 – – –
01 – It's all about the glitter and glam for Vancouver celebrity stylish Crystal Carson who was also celebrating her birthday this night.
02 – He's even better than Beckham. Vancouver Whitecaps star Jay DeMerit and Olympic gold medal freestyle skier Ashleigh McIvor, who are also newlyweds, were among the local celebs.
03 – Fashionista and Vetrina clothing store owner Rachael Kapsalis, left, cuddles up to drag queen Pekka Boo North and her cotton candy hairdo.
04 – She's one of Vancouver's biggest and best drag personalities and it just isn't a party without her. Ladies and gentlemen, the incomparable Conni Smudge.
05 – Simon Collinge, President of Your Logo Glove custom golf event branding, and guest Maria Velez.
06 – Helping celebrate in style are guests Tammy Preast, Love on a Leash dog care owner, left, David Campbell of Freedom Marine and real estate consultant Jill Sinclair.
– – –
By Catherine Barr – March 29, 2014
Also as seen in the Vancouver Sun Newspaper
– – –
By Catherine Barr




www.CatherineBarr.com  |  www.WestVancouver.com  |  www.NorthVancouver.com
– – –