Khakis and cocktail dresses were on my marching orders last week as one of the most spectacular gala evenings ever to hit Vancouver was held in honour of the True Patriot Love Foundation. "Operation Western Front" was co-chaired by businessmen Warren M. Spitz and W. Brett Wilson (of CBC's Dragons' Den fame). Together they turned the Vancouver Convention Centre into a quasi military style forward operation base complete with camo, ammo and Hollywood glam-o. During the elegant reception, guests were more than moved by artist Dave Sopha's "Portraits of Honour" (www.portraitsofhonour.ca) – a massive tribute to the fallen in Afghanistan. Then, a real live patrolling helicopter buzzed the ballroom outside the windows ordering everyone to take their military dinner tray to the five-star buffet line for "chow time". A touching tribute by singer John McDermott and a lively auction featuring KISS rock star Gene Simmons helped round out a special evening that raised over $1.5 million for military families and veterans in need. Congrats to all involved.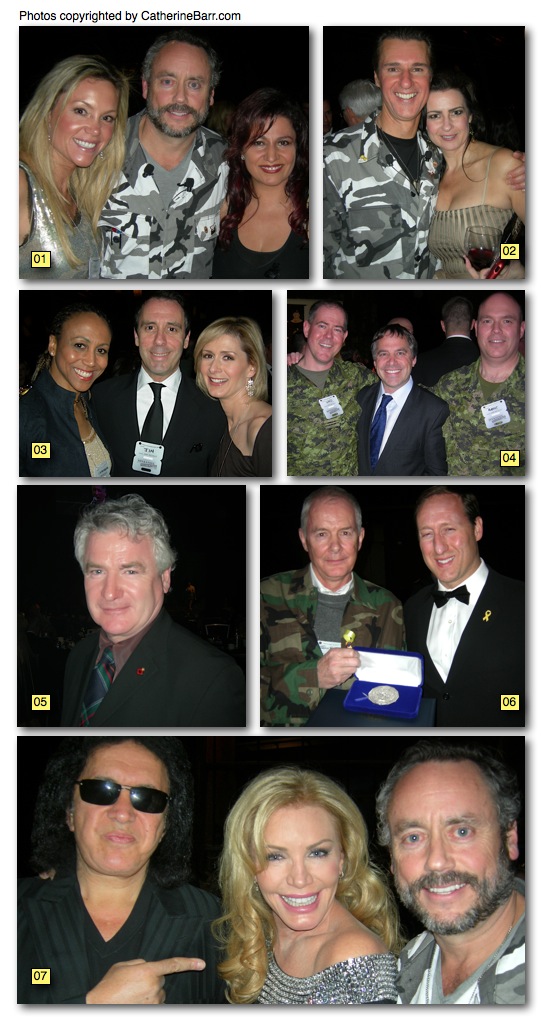 01 – Gala host W. Brett Wilson poses with two of Vancouver's most philanthropic ladies, namely Christie King, left, and West Vancouverite / La Stella Winery owner Saeedeh Salem.
02 – Gala co-chair Warren Spitz, founder of UCS Forest Group, cuddles up to PR gal extraordinaire Maureen O'Brien as dinner begins.
03 – West Vancouver Olympian Charmaine Crooks, left, joins TV Travel Guy host Jim Gordon and CTV early news anchor Coleen Christie during the reception.
04 – North Vancouver's 6 Engineer Squadron members Major Ward Trythall, left, and Robert Alliston lend their support along with North Vancouver City Mayor Darrell Mussatto.
05 – Scottish-Canadian tenor John McDermott's touching rendition of "Bringing Buddy Home" is one of the most poignant moments of the night. Find his latest album on iTunes and help raise funds for McDermott House Canada in support of veterans' care.
06 – Vancouver Olympic (VANOC) CEO John Furlong, seen here with Defence Minister Peter MacKay, is presented with the Canadian Forces Medallion for Distinguished Service by General Walter Natynczyk. This is the highest honour that can ever be bestowed on a civilian.
07 – He loves to rock 'n roll and party every day. KISS lead man and "Family Jewels" reality TV star Gene Simmons and life partner / Playboy playmate Shannon Tweed come out to support their friend Brett Wilson and all of the Canadian military families through the True Patriot Love foundation (TruePatriotLove.com).
– –
By Catherine Barr – March 2, 2011
Also as seen in print in the North Shore Outlook Newspaper on Mar 10, 2011