The Annual Forum for Women Entrepreneurs (FWE) Gala was held last week in honour of British Columbia's female winery owners and experts. The ballroom at the Fairmont Waterfront Hotel looked beautiful as former Premier Gordon Campbell took to the stage to congratulate all of the evening's honourees at "Once Upon a Grapewine". There was also a live taping of "The Tasting Room" with host Terry David Mulligan during the reception and a lavish silent auction full of fabulous libations. Also last week, it was time for the second annual Face of Tomorrow Gala. Hosted by Kasondra Cohen, daughter of Vancouver socialite and Army and Navy heiress Jacqui Cohen, the invite only party at Gotham's restaurant featured an exclusive vodka ice lounge, auction items and live performances by Chin Injeti and Kreesha Turner.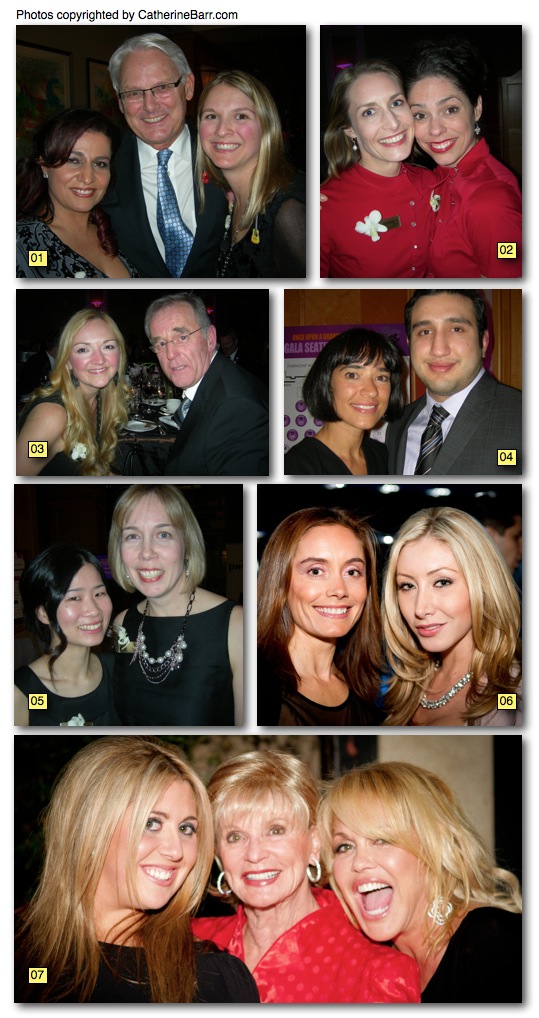 01 – La Stella winery owner and West Vancouverite Saeedeh Salem, left, joins former Premier Gordon Campbell and FWE president/chair Christina Anthony at FWE wine Gala.
02 – House Wine Girls Michelle Bouffard, left, and Michaela Morris look fabulous in their matching monikered red dresses at FWE wine Gala.
03 – Wine blogger Daenna Van Mulligen sits next to media personality and The Tasting Room host Terry David Mulligan at FWE wine Gala.
04 – Countdown Events' organizers Soha Lavin and Sahba Hesabi make sure things run smoothly at the FWE wine Gala.
05 – FWE membership and communications manager Angel Mok, left, greets guests alongside executive director Jill Earthy at the wine gala.
06 – Among the invited guests at the Face of Tomorrow gala are Sophie Mas, left, of the Stand Foundation and Stephanie Summers.
07 – Three generations of fundraising beauties – daughter Kasondra Cohen, left, grandmother Marlene Cohen and mother Jacqui Cohen look stunning at the second annual Face of Tomorrow gala.
– –
By Catherine Barr – February 21, 2011
Also as seen in print in the North Shore Outlook Newspaper on Mar 3, 2011