North Shore Family Services is known for its outreach and for the many programs it runs to help families all across our community. They also provide especially important services over the holidays, including the North Shore Christmas Bureau campaign which helps ensure that no child goes without during this special season. Last week, the Fuller family graciously donated use of the Beach House restaurant in West Vancouver to hold an important fund raising evening. Guests paid a suggested $500 donation to attend and all of the funds raised go to support the Christmas Bureau program. Big thanks to committee members Karen Bruk, Charlene Dalton, Marie Genest, Susan Green, Coryn Hemsley, Carlota Lee, Susan MacDonald, Janice O'Sullivan, Cindy Pasco, Monica Soprovich, Lisa Stout, Coleen Weir and Christy Young.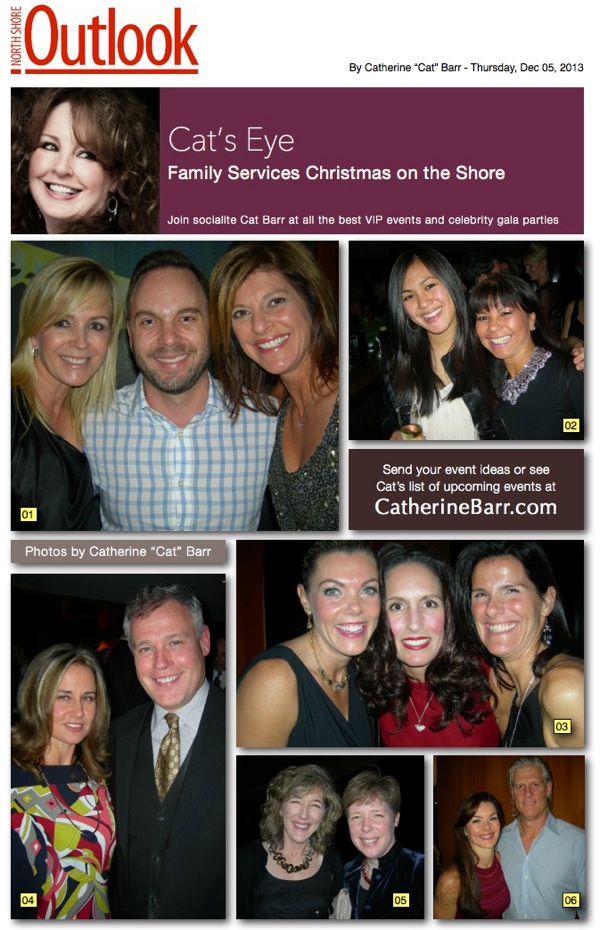 – – –
01 – Organizers Monica Soprovich, left, and Janis O'Sullivan cuddle up to Beach House manager Mike Mitchell.
02 – Christie Lee attends the event with mom Carlota Lee, who is also part of the organizing committee.
03 – Looking festive for the fundraiser are Kirsten Morrison, left, Kelly Fuller and Christy Young.
04 – BlueShore Financial president and CEO Chris Catliff and wife Kym are among the VIPs and supporters in attendance.
05 – Family Services' own Cynthia Orr, left, and Julia Staub French are very pleased with the generous turnout for the big Christmas event.
06 – Cheers to Kim and Jeff McCord who are well-known for their philanthropy and generosity to so many charities.
– – –
By Catherine Barr – Nov 28, 2013
Also as seen in print in the North Shore Outlook Newspaper on Dec 5, 2013
– – –

– – –