Granville Street is cleaning up its act – and a large part of that is due to a few good people from the North Shore. The Edge Social Grille & Lounge (1100 Granville) is attached to the Chateau Granville Hotel and is one of the new shining stars on the see-and-be-seen, scene. Owned by experienced hotelier and West Vancouverite Amir Virani, last week the new crew celebrated with a opening night party that included media and VIP guests. The inside is sexy sleek and, with room for both parties and dining, the atmosphere is classy and cool. Keep your eyes on this up-and-comer and the fabulous folks who help make it all happen.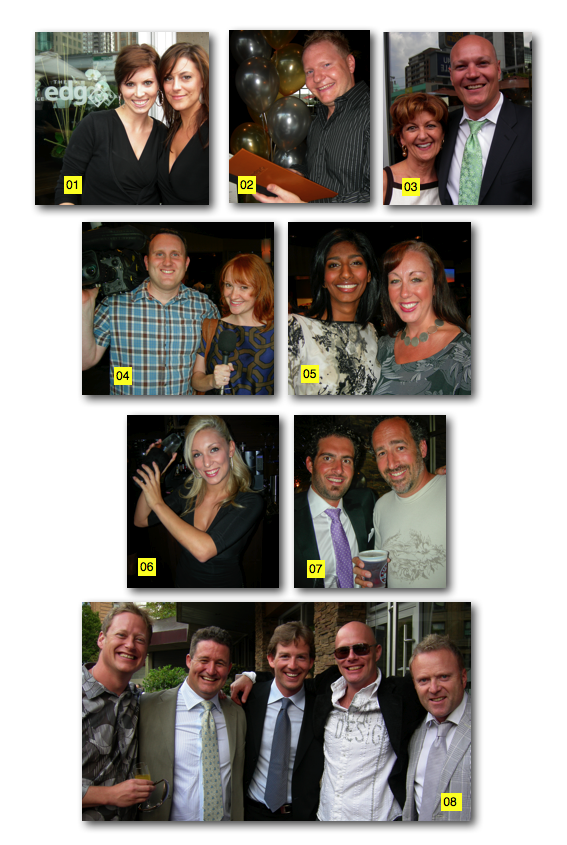 01 – Working the patio and helping keep guests well watered are Carly Campbell, left, and Shannon Intrieri.
02 – He's moved from serving on the North Shore to managing and more – cheers to you David Mooney.
03 – West Van's fabulous foodie Caren McSherry offers up kudos to  Edge general manager James Drummond.
04 – Big thanks to Shaw Express reporter Erin Shaw and cameraman Scott Burbank for coming out to the opening and helping make me look good on TV.
05 – Lifestyle coach Farzana Jaffer Jeraj, left, joins producer and Women in Film president Robyn Wiener who just finished filming an independent film project here on the North Shore.
06 – Look for talented country singer Billie Jo Bryce to shake things up behind the bar and on the new music scene.
07 – West Vancouver's Beach House GM John Holton enjoys the reception with North Van businessman John Curleigh.
08 – Hey ladies, how's this for a warm welcome? Congrats especially to manager Dave Sarich, second left, and Kyle "Captain Handsome" Johnstone for putting on such a great party.