Dundarave Business owners are proud of their village, and why not? Its cozy and elegant atmosphere helps foster that close-knit community feeling on all levels. Great dining, lots of curio shops and all of it mere steps from the beach make it one of West Vancouver's hidden jewels by the sea. Last week, the Dundarave Business Association members got together for the "Not so Silent Auction" gala night. An annual fundraiser, this night featured a live members auction, fun, socializing and a seafood spread fit for a king. Congrats to all involved.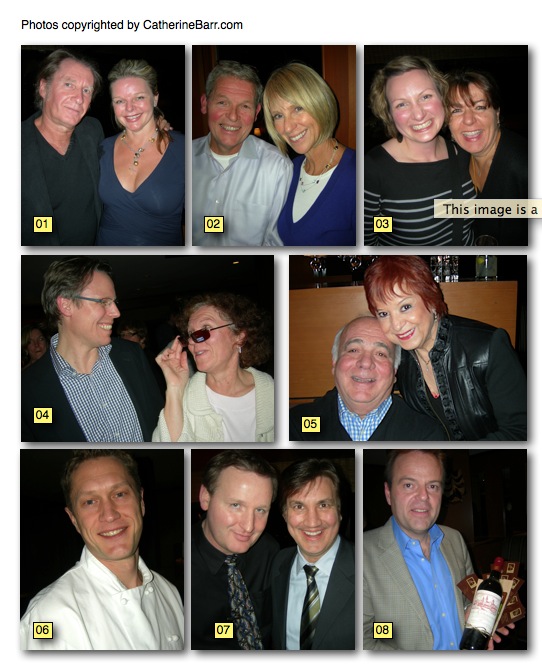 01 – It's always fishy business for Dundarave Fish Market owners Frank Seabolt and Kim Hurford VanSickle who make off with some excellent buys.
02 – Dundarave Business Association VP Robin Delany, seen here with wife Jennifer, is also one of the evening's auctioneers.
03 – Kyla Reveley, left, and Jan Quiring have been busy getting ready for the opening of their new Limelight Floral Design store after relocating from Park Royal.
04 – West Van Optometry Clinic's Graham Foster generously donates several pairs of sunglasses for the live auction. RBC's Claire Kuhn is now looking extra stylish!
05 – Red Lion and legendary restaurateur Mario Corsi and wife Gina shop till they drop at the live auction taking home wine and flowers and more.
06 – Lobster, crab and scallops to die for were just some of the items on the menu served by Beach House restaurant executive chef James Hodgins. Yum!
07 – Getting ready for their big reno, Beach House event coordinator Ken Swanson, left, and GM John Hawkins are really doing a great job with their new approach to food and hospitality.
08 – Taking home a rare bottle of red wine, Philippe Chaber is one of Dundarave's newest arrivals and plans to open his French-themed Truffle House Cafe (in the old Calvin's location) by mid-April.
– –
By Catherine Barr – February 1, 2011
Also as seen in print in the North Shore Outlook Newspaper on Feb 10, 2011