En Guarde! It was a night of cultural cocktailing at the Vancouver Club last week as the sounds of swords clanged and clashed in a night of competitive duelling. Vancouver based party planners The Social Concierge put together "The Duelling Arts" event – a series of Victorian era championship duels in a legitimate rapier tournament that delighted invited guests and revellers. Challengers were dressed in full formal wear for each battle and the entire location was decked out in armour, weapons and heraldry. Exciting!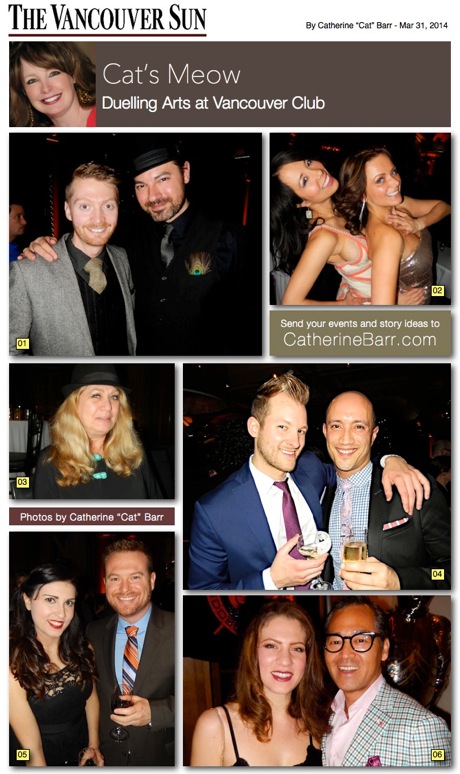 – – –
01 – The Social Concierge's main men Jordan Kallman and Tyson Villeneuve – party planners extraordinaire.
02 – Mine & Yours founder Jigme Nehring, left, and super stylist Crystal Carson.
03 – Miriam Aroeste of Contemporary Fine Art
04 – Guest Jeremy Beland, left, with Hawksworth GM and baritone singer Chad Clark.
05 – Chris Brandt, executive director of Music Heals with friend Carina Neves.
06 – Sophie Perodeau, fundraising officer at the Zajac Foundation with Randall Takasaki of National Bank Financial.
– – –
By Catherine Barr – March 28, 2014
Also as seen in the Vancouver Sun Newspaper
– – –
By Catherine Barr




www.CatherineBarr.com  |  www.WestVancouver.com  |  www.NorthVancouver.com
– – –